Human nature is fascinating. We have the nature to help and the nature to destroy yet the decision on doing either boils down to who you are and your environment. We often know the fall out of humanities failures and what is happening in Mosul is a prime example of them. While we go about our daily business, we cast a thought to news reports of those who are victim to some of the largest acts of evil on the plant and until recently, I never knew what it was like to see the results of such evil until it was experienced first hand.
Not until you see it up close and personal so you see the extent of the damage done. We raised €1800 through an online fundraiser to help those fleecing the fight here in Mosul, Iraq via an online portal and private anonymous donations. Liaising with an activist on the ground we learnt that the newly liberated area in Mosul is where the supplies we wanted to buy were most needed and that despite public agencies calls for blankets and warm clothes, many older camps have all they need and some of those living there simply resell a lot of new supplies they receive.
We were informed that the biggest call is for medical support in emergency hospitals and so we decided to make a visit to one taking in the worst case victims from the conflict in Mosul. The gates outside were sealed due to a swarm of media and the sheer number of people trying to get inside. Showing the money we wanted to give and explaining our story how people in Ireland have given out of the goodness of their hearts for us to do what we can here, a guard on the gate escorted us personally around the emergency wards to the most deserving causes.
Liaising with a medical team, we were able to identify who was in most need of some emergency funds to get the help they needed. Walking past children, heads bound in bandages, men covered in the wounds of shrapnel we were brought to a location where our host Hasan, a man who has gone out of his way to help us, translated for us.
A man from Mosul, who will remain anonymous had his home and business blown apart by rocket fire leaving his wife needing urgent surgery from shrapnel, his children wounded and his leg shattered to bits. His livelihood was blown to the ground and with no way to make a living or support his family, he is at wits end. We provided the family with some much needed funds to get the medical attention they needed.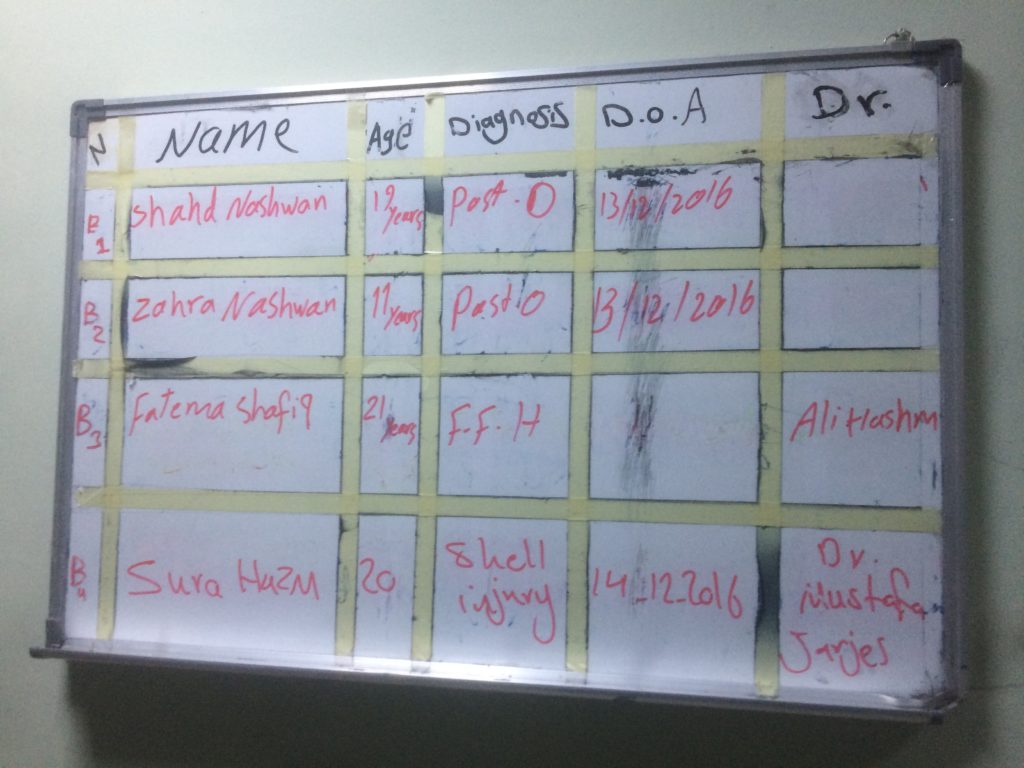 We then met a doctor who informed us that they struggle to get urgent medicines on call for some cases and that many can't afford this help. After a short discussion, we agreed to put a small fund together that will allow patients to get what they need, when they need it. He gave us written prescription receipts for what was needed right away and will send us any more as the fund is used. We want to make sure this process is as transparent as possible.
Two small children who were hit by a car bomb were being looked over by a hospital nurse, and in separate need of funds. No one explained where their parents are and in this situation, it's not always clear. We were shown pictures by our guide of a small child who came in covered in burns, barely two years of age and he was the only one saved in a family of 14. We gave the two young girls a small sum each under the care of the nurse.
None of us spoke as we moved our way to the Intensive Care Unit where we saw a chart of the patients and their injuries, outlining who was wounded from shelling and who was not. Young children completely covered in dressings only a nose peering through for air sat in many beds was a sorry sight. Moving again to the entrance we were met by a senior doctor who personally addressed a most urgent case. A mother met us by her daughters bedside. Her daughter was in the vicinity of a explosion and is unfortunately now disabled from the waist down for life, covered in scars and recently had her kidney removed. She still required more surgery. The woman told us their house was hit by rockets, the father is gone, her sons legs were destroyed and only her and God are there for her children. The scar that graced her forehead told of the struggle they've gone through.
Leaving the hospital through the bustle of the emergency department where casualty after casualty poured through the doors, we made our way home to plan the big day head of us.
The clock struck 8am, there was no power in our hosts house as usual. Using a battery powered lamp we fried some eggs and ran out the door. We had been put in touch with a foundation here called BCF that said that they would do what they could to help us. Making our way down, we met with a man dressing in traditional Kurdish clothes who upon hearing about our adventures and what we were hoping to do, dedicated a truck and manpower to help us out.
Then we hit the bazaar with a shopping list where we would be able to pick up some essentials. Initially, we were told by an activist that the newly liberated part of Mosul needs flour, water and baby milk for making bread and feeding the kids, however getting that close to the conflict was cautioned by many people on the ground and so we were now buying supplies for Hassan Sham Camp 2, one taking newly displaced refugees in waves by the day. The rain was beginning to pour down, we were walking through our own breath while feeling the tense clench as we tried to wiggle our fingers. The Kurdish winter can be relentless and reports of children with one shoe or none at all were coming through. We decided to do all we could to keep the kids warm.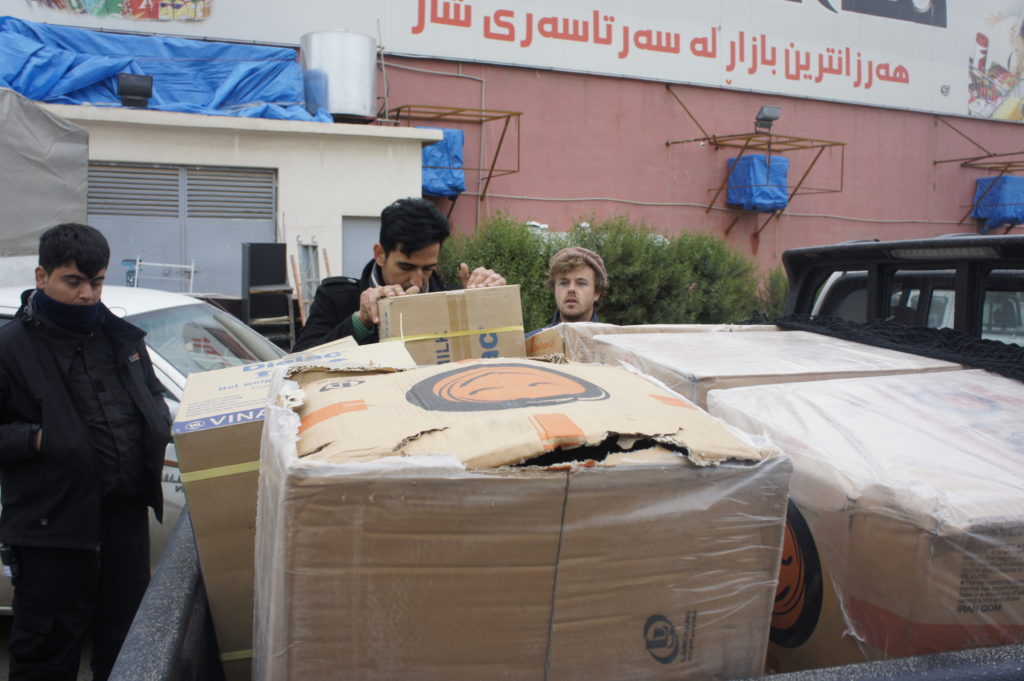 You see, in these camps it's often the biggest and strongest that get the best supplies on offer. The children as a result get left behind and left defenceless against the cold. Buying supplies that only children can use, preferably below 10 years of age, we would be able to do a lot more. First stop was to get footwear, the camps are muddy, wet and damp. Locating a man in the basement of the bazaar and shopping fervently around him, he decided to give us an extremely good deal, welcoming us in for chai while we waited for him to put together 275 pairs of footwear in a variety of sizes.
Moving on, we collected hundreds of pairs of socks, gloves and hats in colours, football teams and sizes. The priority here was to get as much as possible and many vendors gave us everything they could at cost to help us in our cause. I can't say it enough, the Kurds are complete rock and roll. They are strong, resilient but when they smile, they have a kindness in their hearts that is hard to find anywhere else in the world.
The night previously, we met with a store manager of a wholesale warehouse to try and figure out the best way to get the cheapest baby milk that was most essential for those in the camp. Running low on the amount we needed, we arranged for a new supply to be shipped in the following morning for collection on our way. Picking up the 200 tins of baby milk powder that will last for a month per family, we decided to get one last thing that would help lift the spirits of the kids in the camp. For most, they have been through a traumatic experience to date. Not just by being displaced from their livelihoods and their homes but they have lost dear friends and close family. Some have had unspeakable things done to them by extremely vile people. The children have nothing to do and all day attempt to make their own fun. Picking up a sack of new footballs, we made our way to the truck, strapped everything in and bundled in.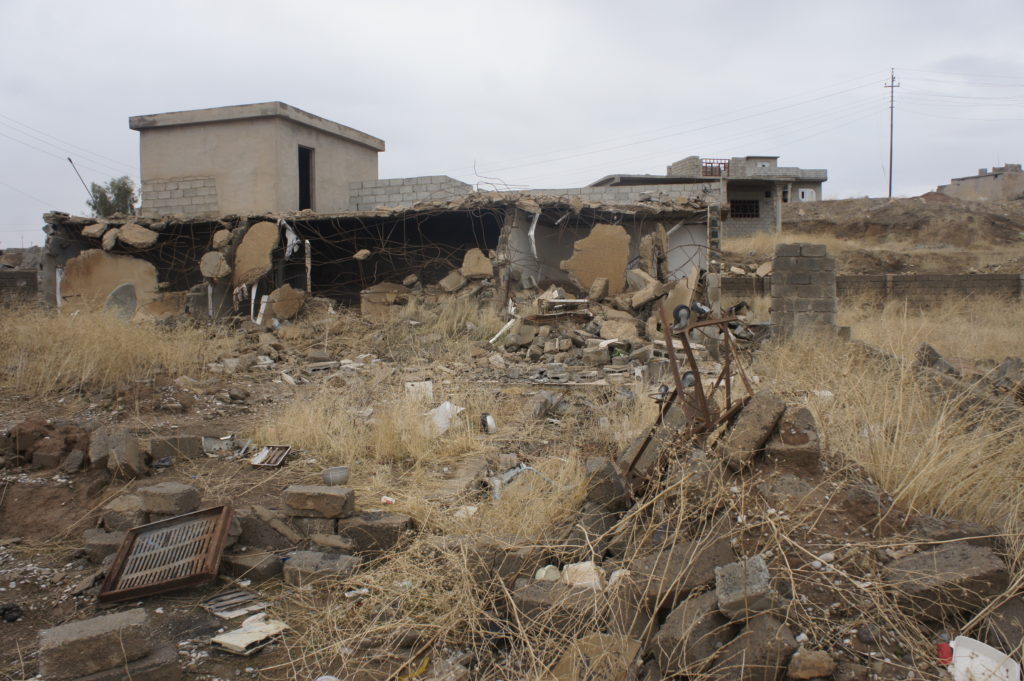 Speeding towards Mosul, the centre of the conflict in Iraq we passed through several checkpoints and over previously occupied ISIS territory. Crossing over temporary bridges as the motorway was blown by ISIS, we slowly crawled into the village of Hassan Sham which was only reclaimed 2 months previously according to the man in our convoy. The town were completely destroyed, and all that remained was rubble. We stopped of at a food hall for a quick bowl of chicken and rice for any supporters and volunteers working in the camp. Warned not to enter any of the houses around the centre as they are still containing mines and complex ones at that, we gobbled our food and drove the truck past Hassan Sham Camp 1 to Hassan Sham Camp 2 where 5,000 tents have been built and are filling rapidly.
Driving through the front gates, a crush of people were rammed against the gates to the storage centre with the tallest managing to barge their way to the front. Many children were scrambling around the outside in a lost despair. Kurdish guards doing all to maintain control and hold people back from the entrance. To make the most impact possible, we grabbed a soldier and sped to the back of the camp, got our selves organised and began driving the lanes of tents to give out the goods tent by tent.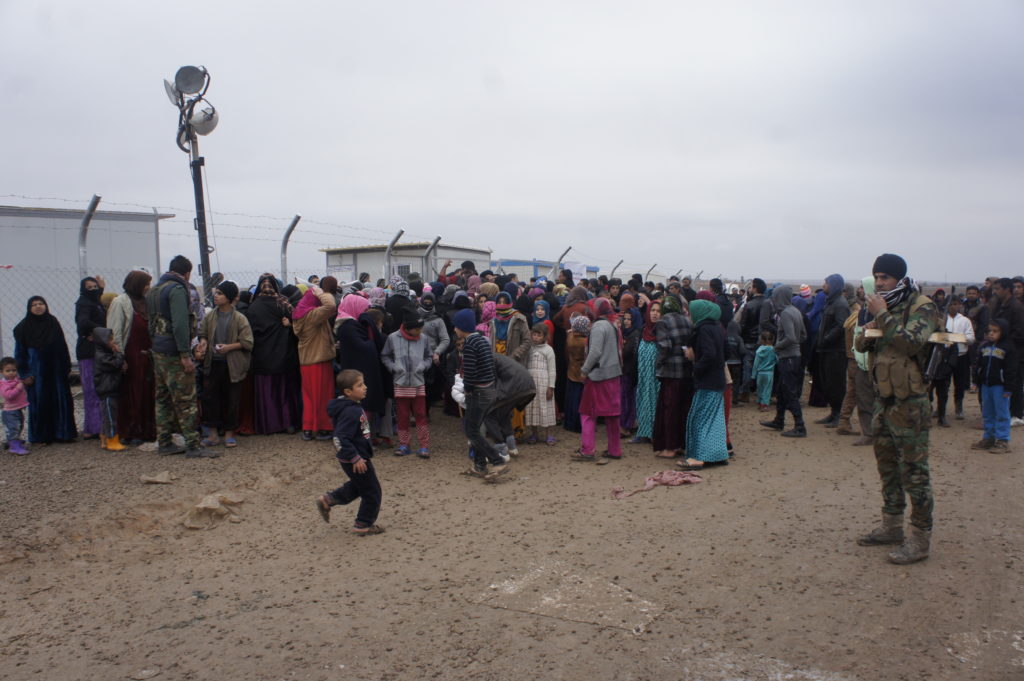 Sorting shoes from small to big, hats, scarves and all other materials based on child and family size, we began the rounds. Following a distribution structure only allocating the goods to a series of tents in a certain area, it was extremely heartbreaking not to give to those who rushed around us, grabbing at our jackets and trousers. Giving to those who wandered up from unassigned tents would cause a riot. However, chaos is often inevitable but with the help of our armed convoy, people kept back when things got too heavy.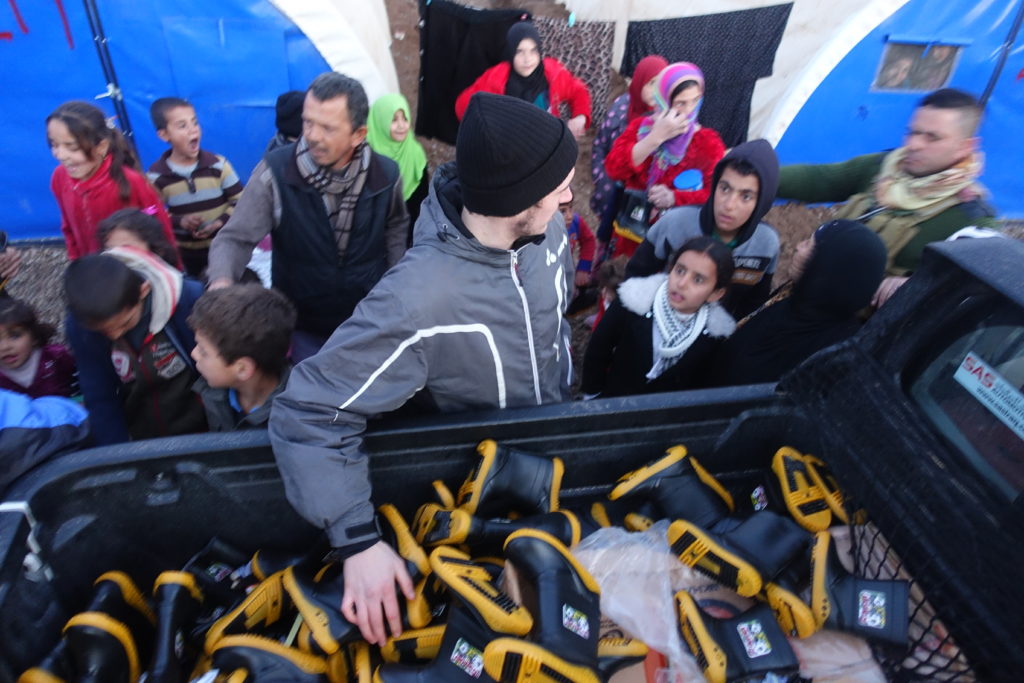 Children seemed jumpy, scared when we jumped down from our truck to give out goods at first but soon warmed up to us with smiles and laughs. Wearing large, cracked and broken flip flops in this temperature has left many with their feet and especially their toes badly swollen. We gave out baby formula to each tent, then began getting some knitwear on. Lastly, we went to each individual child trying on boots to make sure they had the right size and then a little more just in case.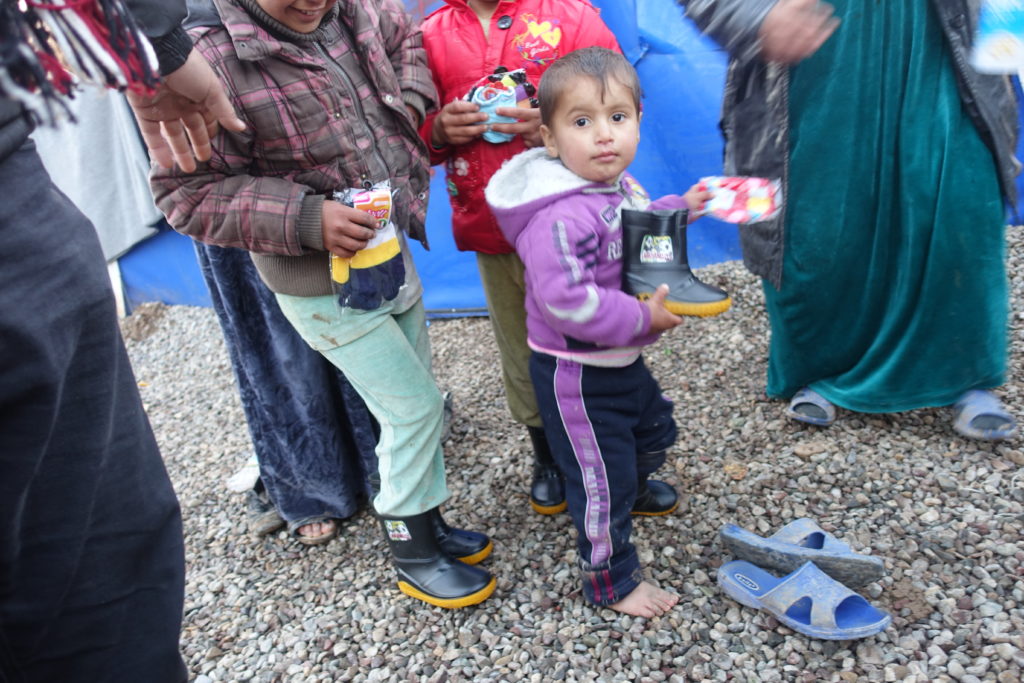 Hour after hour reeled away, the light from the sun was being swallowed by the night sky. Exhausted and frustrated we could no longer see. With no light in the camp, the people camp from their tents with torches to help us continue the work. From time to time we would sneak a football to a mother so she could surprise her sun. If I'm honest, it was also mainly to avoid complete war between the kids. One slipped out early during the distribution through the camp causing an outbreak between 30+ young boys, doing all in their power to get their hands on one. One young man who had no shoes on, kept asking for a football instead. He was willing to suffer bitter cold to play bare foot in these camps. They have the essentials to live but they don't really "live" here if you call it that.
They have no idea how long they will have to endure their residency there and the fight to reclaim Mosul looks as though it may last well into Spring, a mile away from what the US has claimed it would be. Leaving the camp we hit the store to give any remaining goods for distribution to those who were newly arriving from Mosul. Exiting the camp, bus loads of families were arriving, 80 to be precise and big ones too! However, they were not accompanied by any men. The men were transported in trucks the 10 minutes from Mosul to the camp where they are separated for questioning to make sure they are not ISIS trying to escape. Little girls as young as 6 or 7 had backpacks with everything they had, small blankets under their arms and their toys in hand. Standing alone, in the dark of a refugee camp with no idea what the world is like around you and what the future holds for you, it breaks our heart.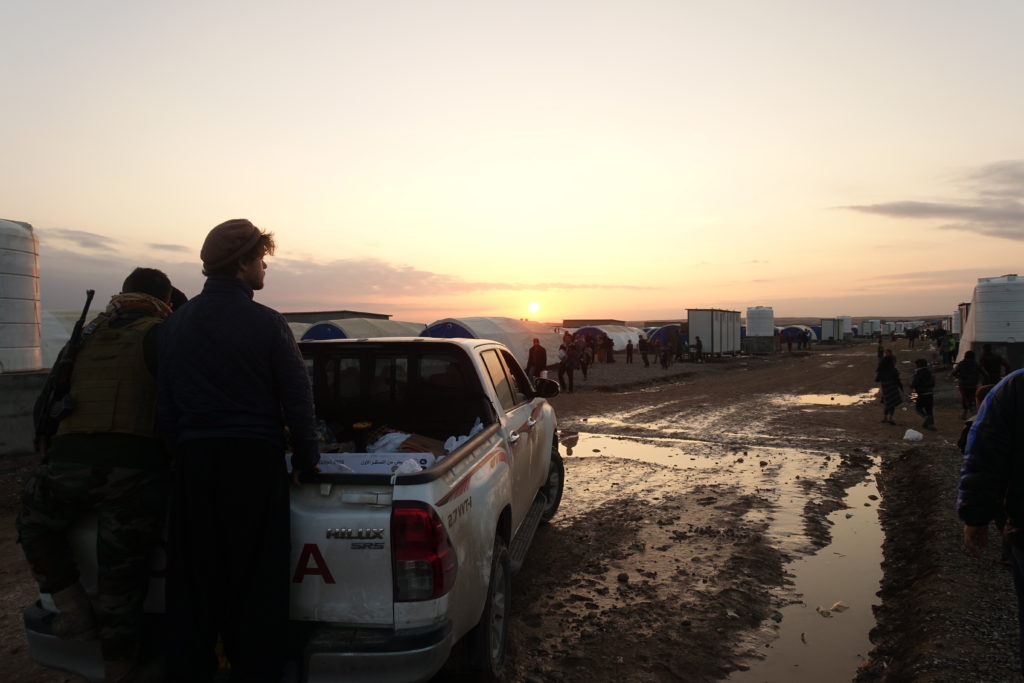 We drove home barely speaking a single word. What we did only scratched the surface of the surface. It feels like we were helpless to do much for these people but the smiles and little happiness we did bring was worth it. Here is where I want to make a special mention of someone, who without his help we would have been lost in ever making this happen. He put us in touch with the right people, drove us all over to collect supplies, do our research and especially to completely max out our bank cards every day in a struggle to collect enough funds to make this happen. Hozan, a man we met on Coushsurfing is the kindest individual, composed of a thousand beating hearts. He helped us personally, put hats on kids heads, boots on their feet and let us sleep on his floor the entire time we have been making this a reality. Thank you Hozan. Thank you from the bottom of our hearts.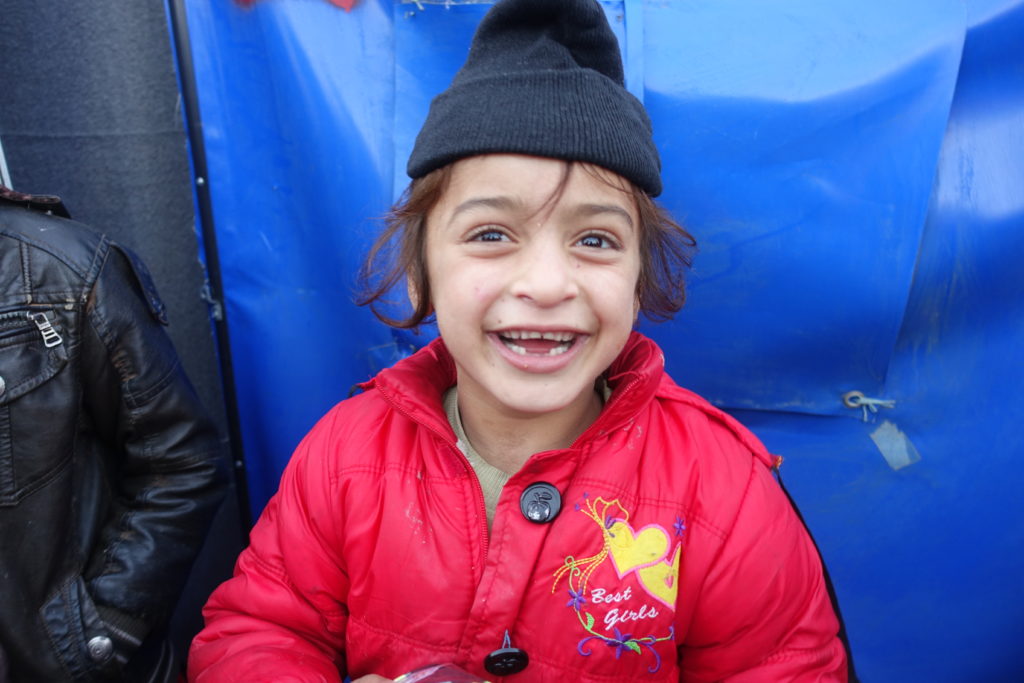 We managed to raise a total of €1,729.25 plus a little more from some PayPal transfers in only a matter of 48 hours through our Facebook page. This was to you, our friends, family and kind artisans of humanity. You are legends, you made people happy, healthy and warm this winter. The best christmas present you've given even though you may not realise it yet. We will be setting up a portal to put any further donations to good use here after we have left. Keep posted, for more on this.