If you want to go to a country that is a little off the beaten track and create travel stories that will trump any others, then you are in the right place. It's less travelled than most places on the backpacking trail mainly due to being demonised by western media. You'll only ever hear the bad things! After the 9/11 attacks, tourism dried up and left many people without jobs. However, let me give you a breath of fresh air…. Pakistan is safe! You just need to avoid certain places and you are perfectly fine! You have the best hospitality in the world awaiting you, not to mention ancient history and the some of the most panoramic views known to mankind.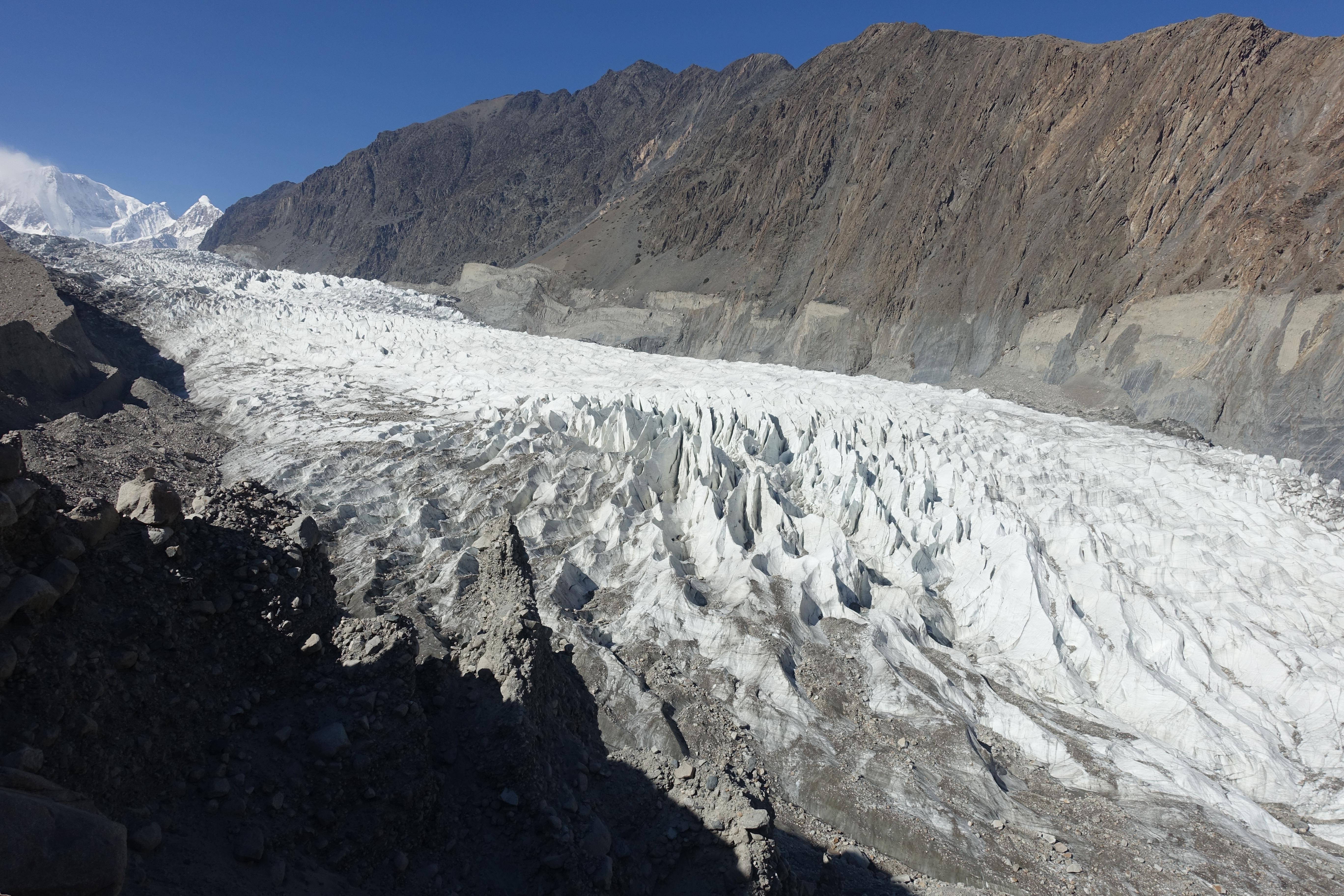 Why should you go?
Without writing a novel out of this section alone, I'll try and keep it to bullet points, which in itself is nearly impossible:
The best hospitality in the world. Don't be surprised if the person you just met on the bus is offering you to stay in their home. This is normal.

Everyone tries to pay for you. If you sit with someone and have tea, you have a real challenge on your hands trying to pay.

The highest concentration of peaks over 8000m in the northern region of Gilgit-Baltistan and to more than fifty peaks above 7,000 metres (23,000 ft).

Three of the world's longest glaciers outside the polar regions are found in Gilgit-Baltistan.

The food is outrageous. Four weeks and not one bad meal. It's also extremely cheap.

Travel is cheap and so are taxi's in major cities.

Couchsurfing works really well and you will have hosts in a matter of minutes.

It borders Afghanistan, Iran, China and India making it a cultural crossroads.

They are extremely aware of the negative media surrounding them so everyday citizens do all in their power to make you feel as safe and welcome as possible.

Probably one of the most tea obsessed countries you will ever meet. They literally have about 20 cups a day each. More often than not you have no choice but to have one. It comes with milk and sugar (a lot of it actually) in it which everyone seems to want anyway. So its simply made that way! Don't be surprised it you you get invited into a million homes by people you just met for a cup of tea!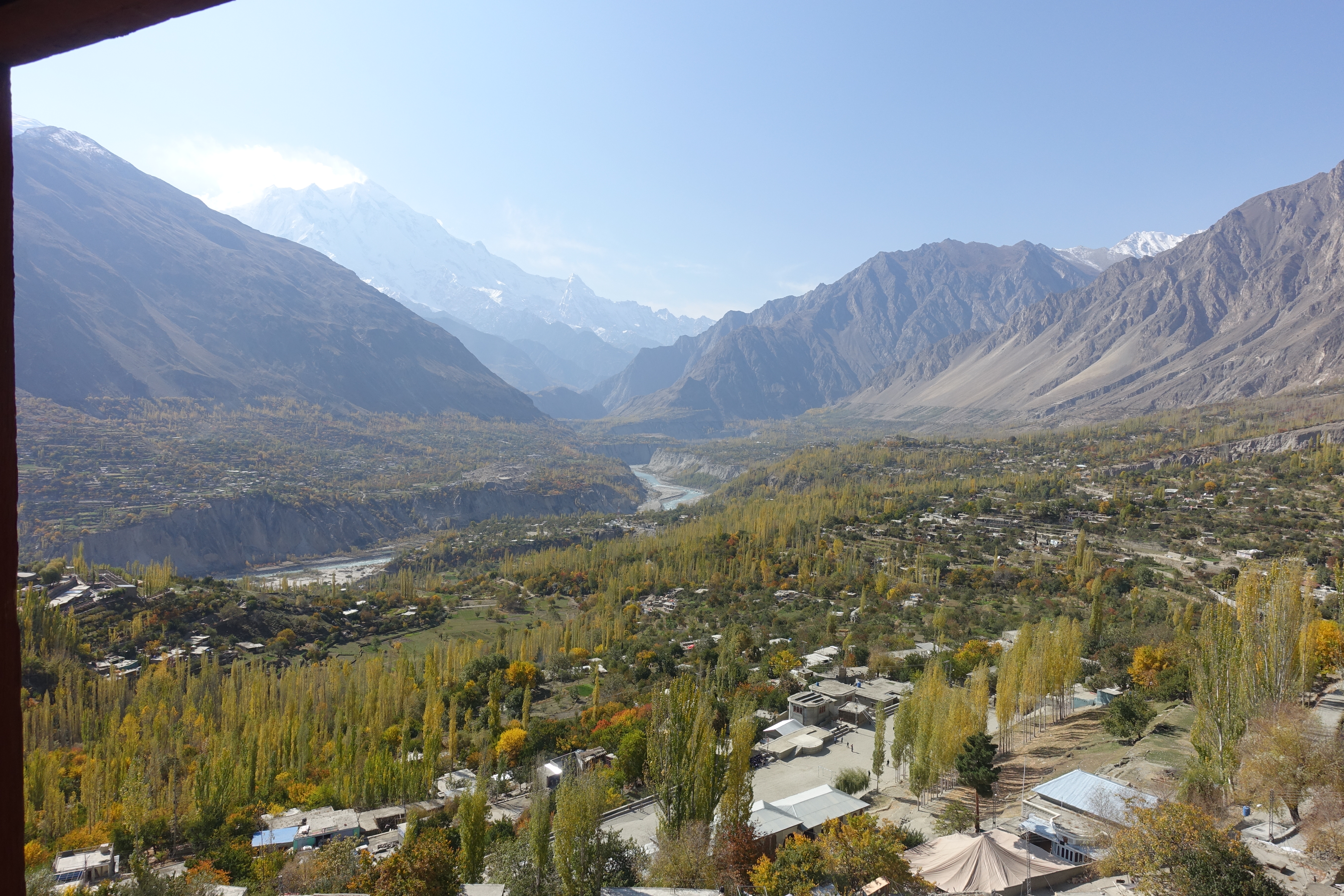 When should you go?
The main reason international tourists come along is to check out the mountaineering and trekking in the northern regions! This is no real surprise really, it's probably one of the most stunning places I've been fortunate enough to visit. Trekking peak season is in June, July and August so you can expect to pay more but the weather suits these activities best. If you want best rates and availability, you are best heading in September/October when you can still get around and places won't be full up. Internal tourism is very high in this season and you can find it tricky to get a place to sleep. For the rest of Pakistan, it has four seasons: a cool, dry winter from December through February; a hot, dry spring from March through May; the summer rainy season, or southwest monsoon period, from June through September; and the retreating monsoon period of October and November. If you want to know what festivals you will come up against, there is a full Pakistan festival schedule available! Although it might be a little outdated!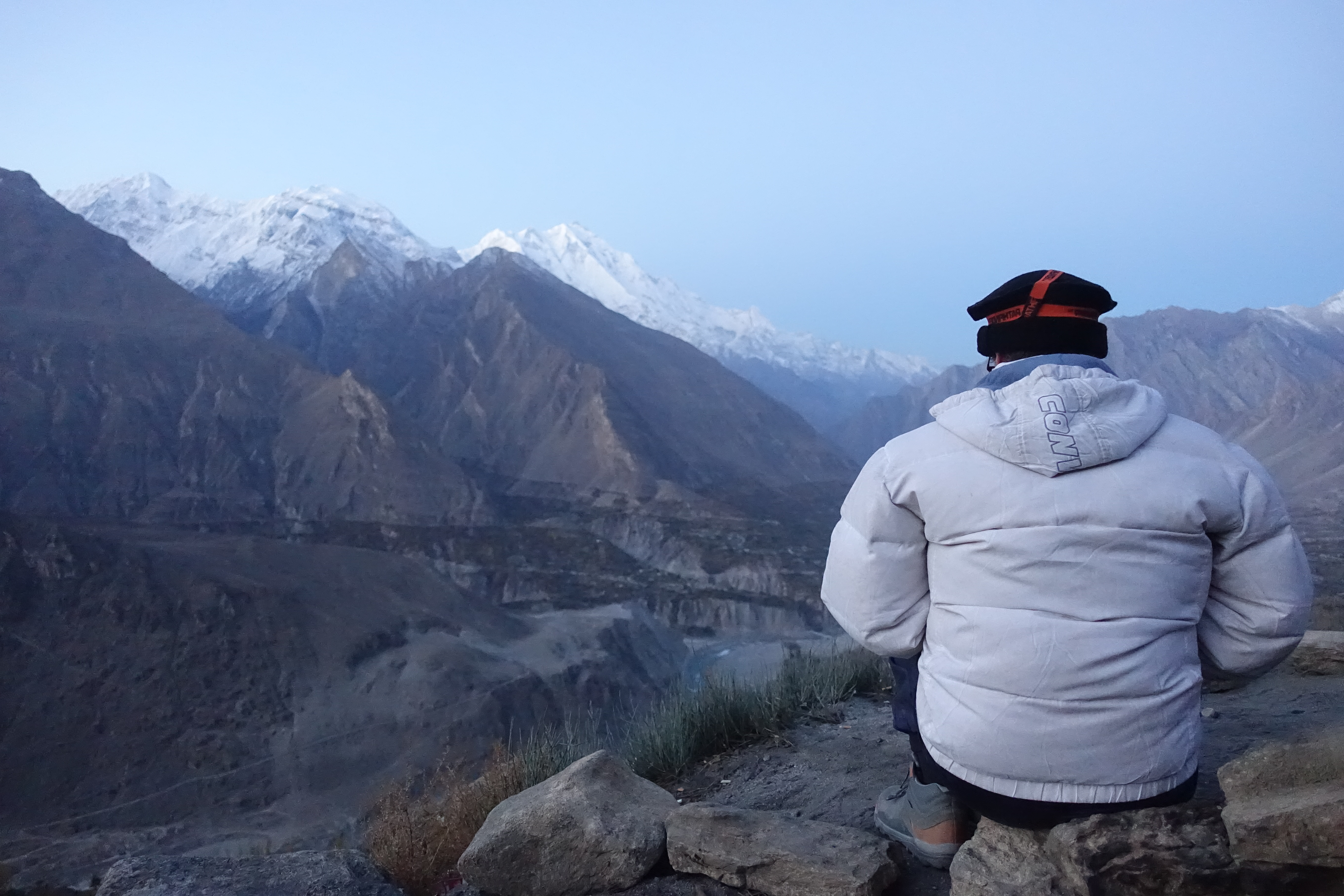 Where should you stay?
This all depends on you really. Couchsurfing is very popular and you will have no problem finding people to stay with. You also have the option of 5* hotels and budget accommodation too. Now, hostels are extremely limited at the moment as there is only one in Lahore, our friend Imran just opened one in Islamabad and we will be opening one in the North come June 2017. Hostels or shared accommodation (providing there are a group of you) will work out about $5 a night or 500 Rupees at the time of writing. Accommodation in most guesthouses will be pretty basic but it will have everything you need. It's rare to find extremely good internet.
Sim Cards
There is no shortage of networks to choose from but some will work better for you depending on the reason for you visits. If you are heading to the mountains, grab a Zong sim card as it is the only one with consistent coverage up there. Other networks like Warid, UFone and Telenor are all decent but better suited to the low lands of Pakistan. Getting a sim isn't that straightforward though as you need a Pakistani Identity card to pick one up. Now, each citizen can register 5 sims to their ID so you may make friends easy enough with someone who will register one just for you. Alternatively, find the head office, pull a number and wait to be called. You shouldn't be waiting for too long and all you need is your passport. For $7 you can have 2GB, 1500 texts and 1500 minutes for the month so get busy socialising. You'll have a million numbers and Facebook friends within a week as everyone will want to befriend and hang out with you! These are the nicest people on the planet after all.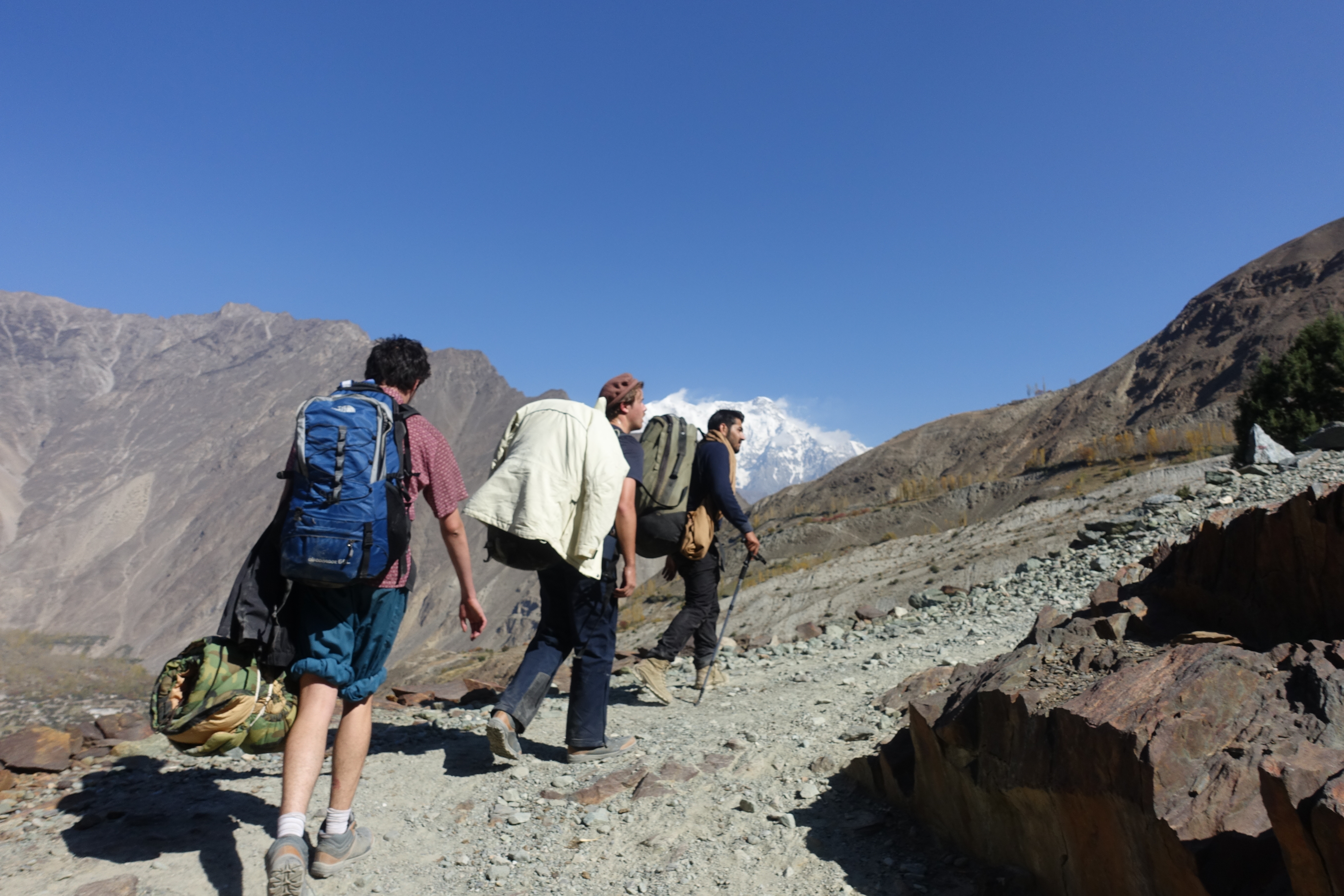 Getting a Visa. Is it hard?
I wish this was easy but I'm afraid it's not. I was lucky in that I got a business visa for our group from a friend of a friend who had a business there and could get us in no problem. Depending on what country you are from, the business visa varies but there is a very high chance you will be looking to get a tourist visa and if you are, here is how you do it! First of all, there is no e-visa system in operation and getting a tourist visa needs to be done at a consular office. In most cases you are advised to get a visa from the Pakistan Embassy in your country unless your country doesn't have one! In which case, you can go to a neighbouring one. Tourist visa is valid for 30 days and can be activated within three months after receiving it (although seek clarification on this at your Embassy)
Documents you will need are:
Letter of Invitation (Need one? Email hello@readyforroad.com

 and we'll put you in touch with our guy)

2 x Passport photos with blue hue background

Flights booked in and out of Pakistan

A booking for a hotel (Booking.com has been reported as fine)

Copy of your passport

Passport valid for at least 6 months.
Citizens from Iceland (90 days), Maldives (90 days), Nepal (30 days), Samoa (30 days), Tonga (unlimited) and Trinidad & Tobago (unlimited) can enter visa-free. In addition, visa is not required for holders of a Pakistan Origin Card (POC) or a National Identity Card for Overseas Pakistani (NICOP).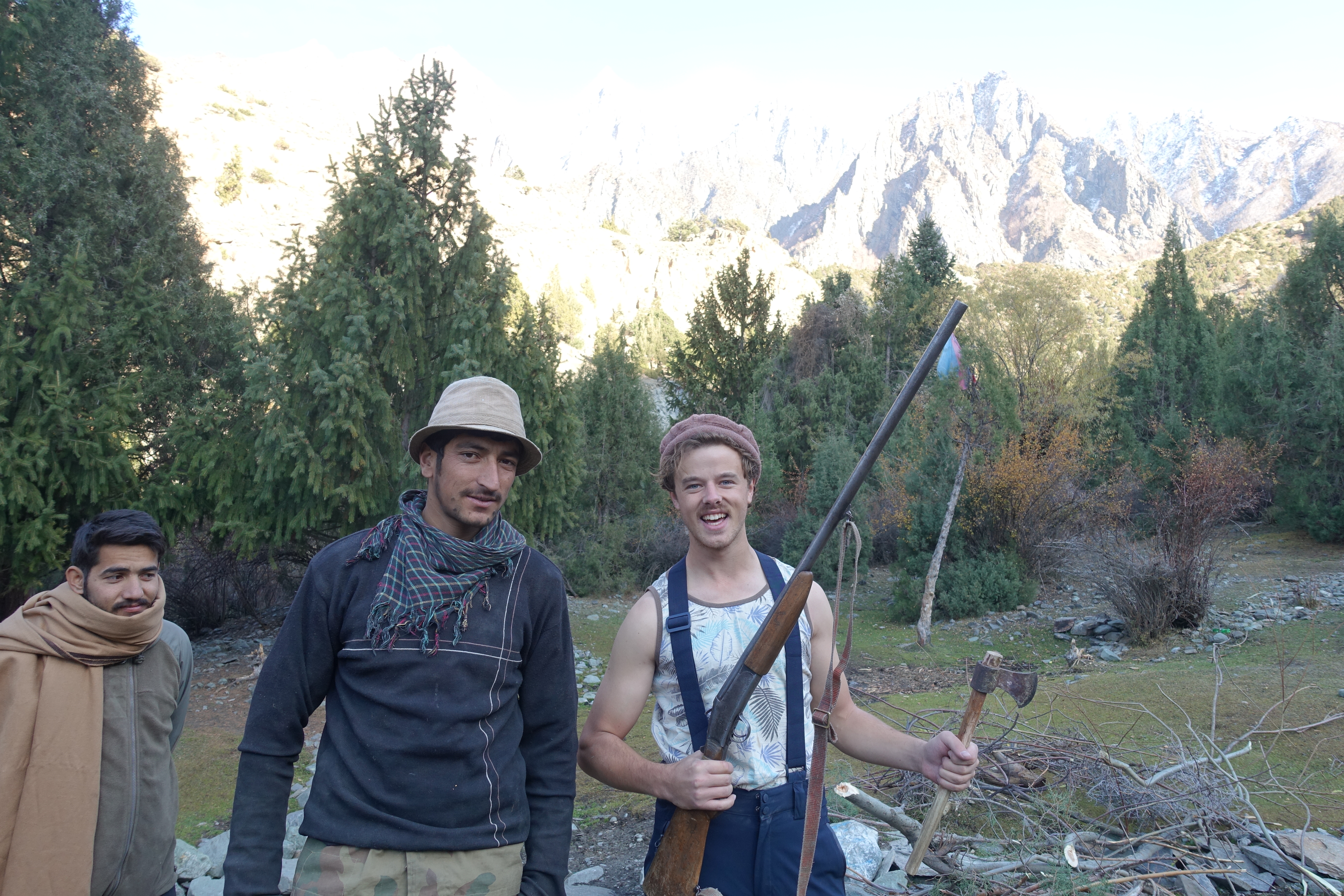 Getting in
While Karachi, Lahore and Islamabad are home to major international airports, there are also international airports in Quetta, Gwadar, Peshawar, Sialkot, Multan, Rahim Yar Khan, Faisalabad and Peshawar. Land crossing from India is possible and I have only met one person who has done this but going to India! There is also the mad adventure of going over the land crossing into Iran but if you find any blogs on this online, you will find that it's probably not a good idea! For all purposes of this blog, I am advising you to fly in!
Getting around
Buses come in many services and standard levels. For buses, it is advised to go at least one day in advance to book your tickets, especially in peak season. Getting the bus north to Gilgit-Balistan is a stomach swerving 16 hours on roads that would turn milk to butter. If you are taking the bus to northern regions, take some motion sickness tablets (even the most hardened of us were filling sandwich bags with regurgitated breakfast). Bus can range from 1,500-2,2000 depending on whether you travel by budget bus or VIP (The difference is minuscule but helps a lot over the course of 16 hours. Bus leaves 10pm from Rawalpindi NATCO Station heading north to Gilgit. Coming back, the bus leaves at around 7am from the Bus Stand in Gilgit. There are local buses that service the towns in the north that can cost $2-$3 depending on where you want to go.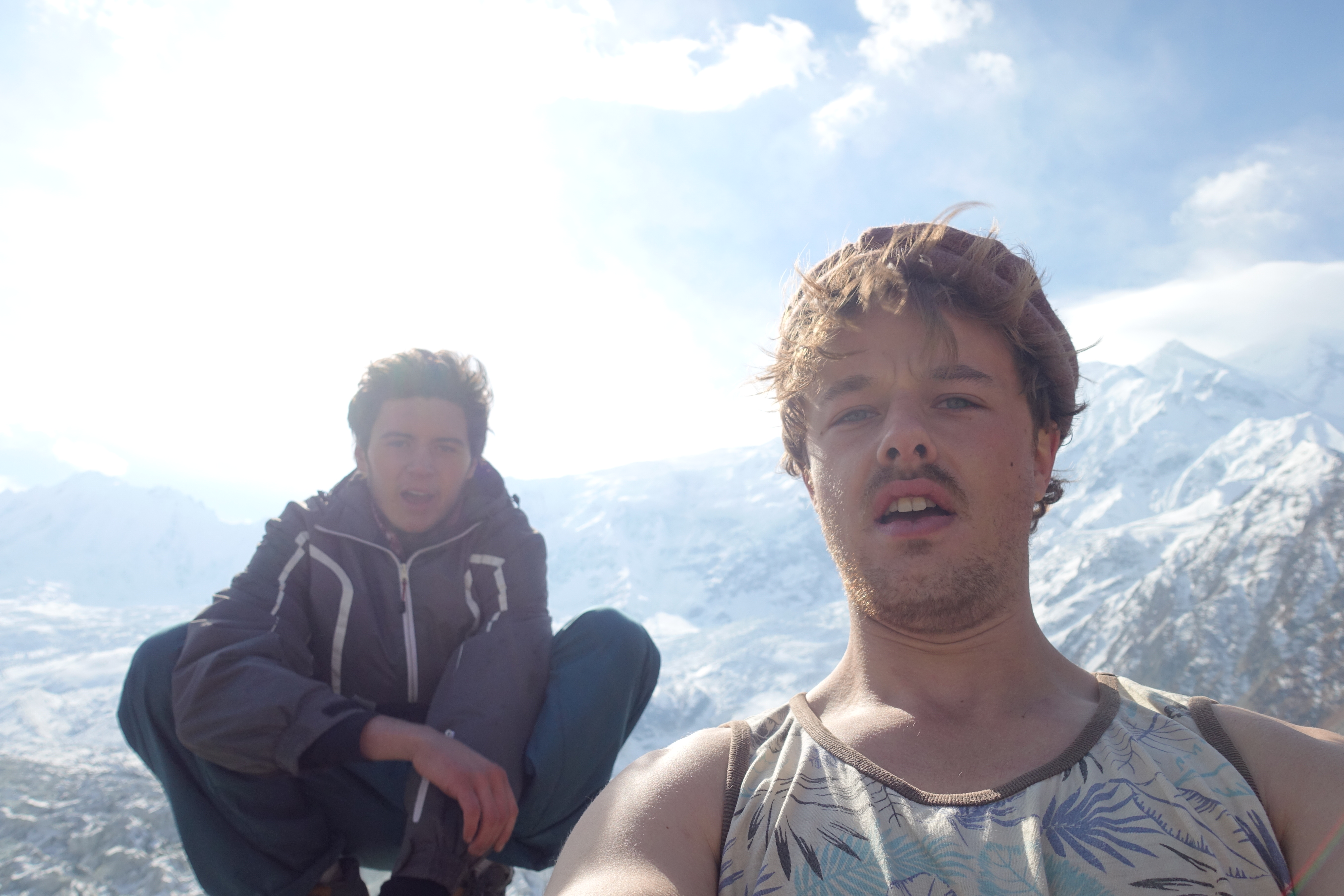 Trains are the same and go pretty much everywhere. They are a little more expensive than buses but the experience is a lot much more relaxed. There are also a variety of options available in terms of travel class meaning that if you are willing to slum it, you can get around pretty cheap! From Islamabad to Karachi is about $32 for a comfortable sleeper, and takes 35 hours. 
How cheap is it?
You can live on $5 a day if you really want to and are sticking to Couchsurfing. It's probably one of the cheapest countries I've visited so far. For dinner you can be looking at $1-$2 for a delicious curry with some parathas. Rooms will cost you $3-$10 depending on what level you go for! Taxi's around the city will cost you $2-4 and you can haggle. Notably the taxi from Rawalpindi (bus hub near Islamabad) and Faisal Mosque (the only real tourist attraction in Islamabad) will set you back $3. All in all, you won't spend a lot here and there will be many times you will have people offer to pay for you and will be offended if you keep insisting to pay. You will be met with "It's my moral duty!" or "You are our (Pakistans) guest!".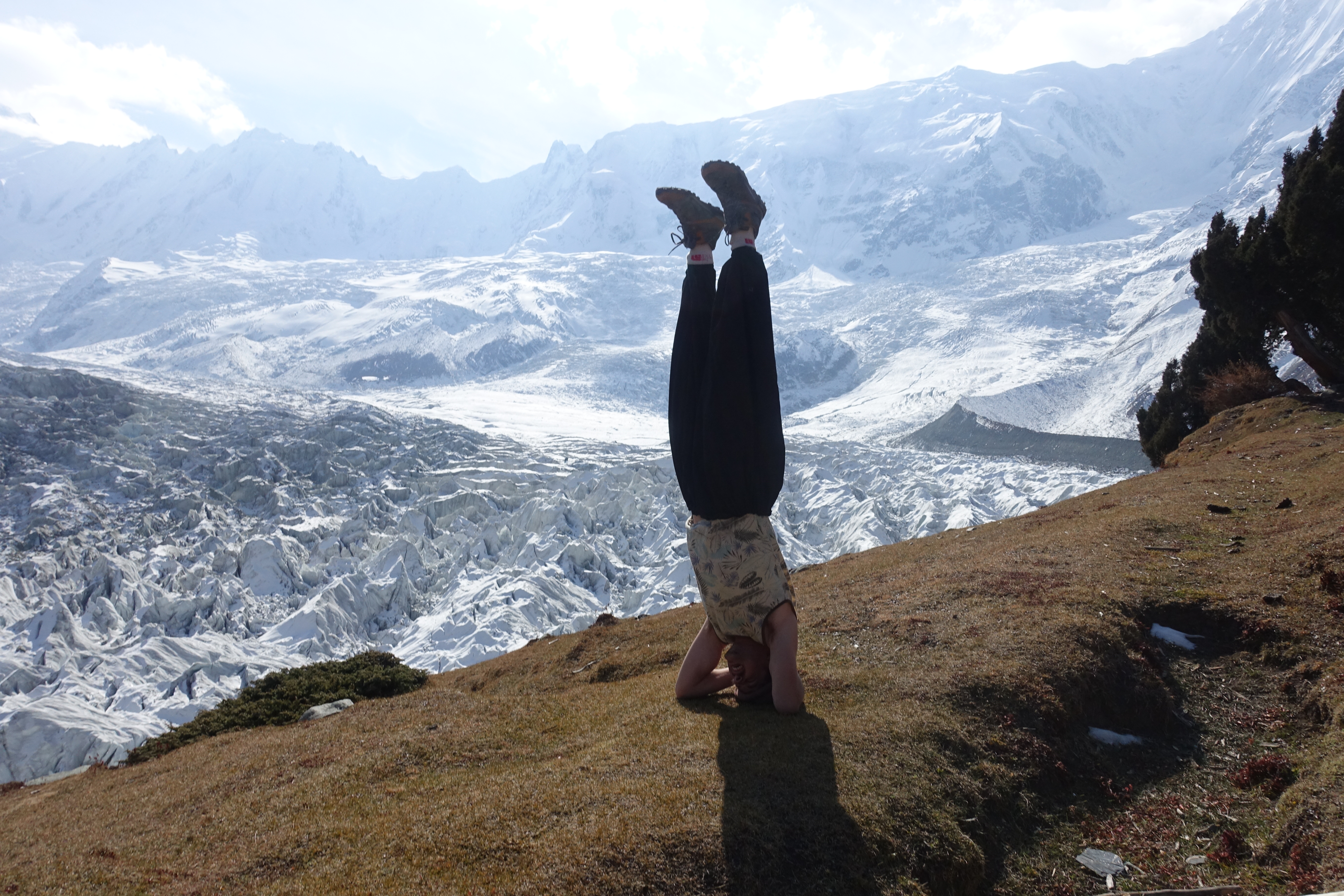 Food & Drink
Not too far off the Indian cuisine and in fact sometimes exactly the same. A few notable mentionable differences are the the chai (Tea). They don't spice it up with masala like the Indians do and more often than not it comes with heaps of sugar in it already. Remarkably addictive. Alcohol is a no, no. However, you will still be able to find it but you might need to know the right people and talk the talk. In Islamabad, you can get it from the major hotels like Marriot and Best Western (Go to the exit of the hotel and go around the side, you'll see a few skulk into the side of the building where it's unofficially sold. Gin, Whisky & Vodka available).
Some dishes worth trying are Biriani which is definitely their top dish and you may find yourself eating it with your hand. Important to only use your right hand or you'll get some funny looks. Try the Daal too which is essentially a lentil curry and if you can, try a Kashmiri Chai. It's a tea with herbs, nuts and a slight pinkish colour. You really can't go wrong with food in Pakistan. Hygiene is not the worst but definitely best washing your hands before a meal.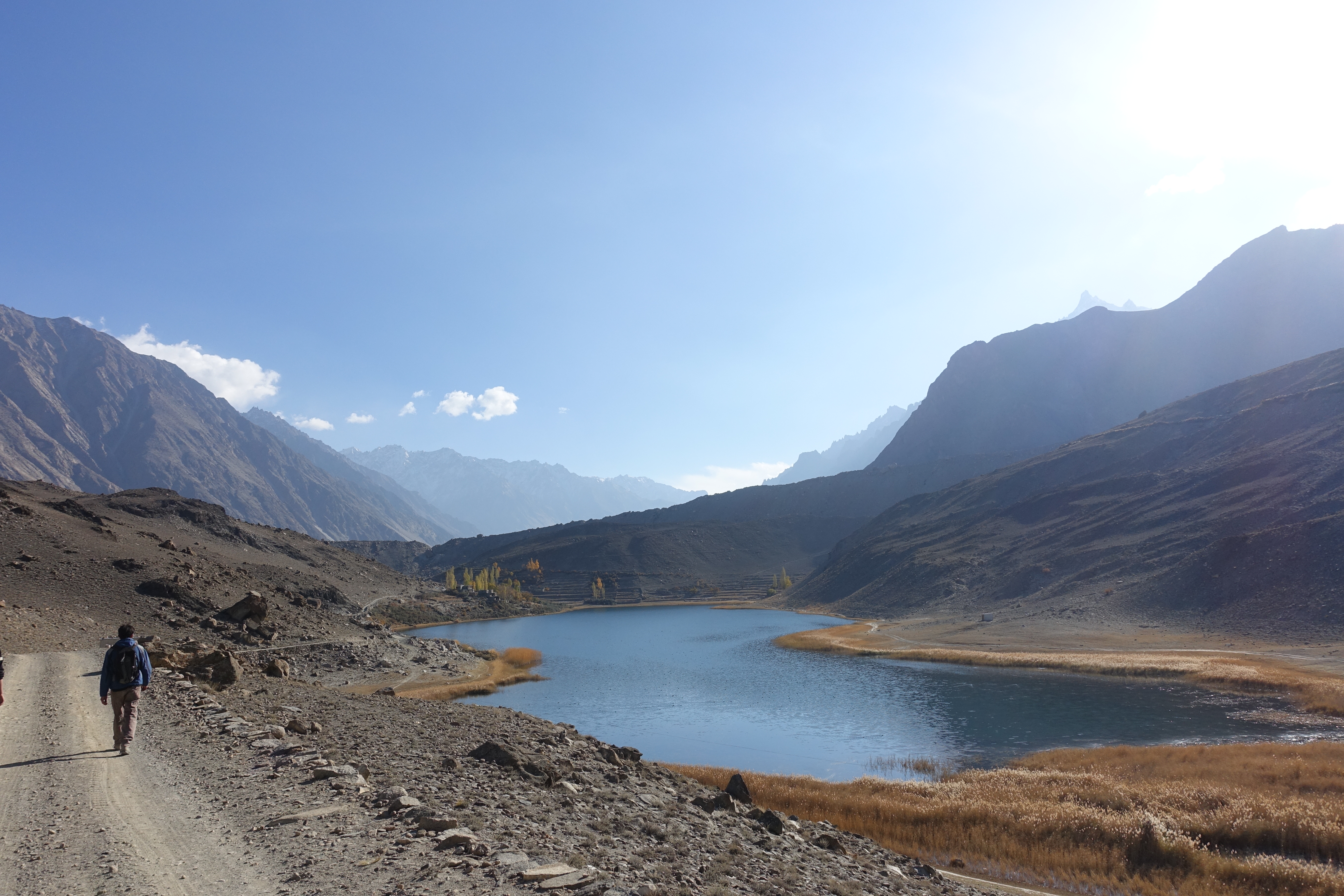 One Month Itinerary
Very good chance if you are coming to Pakistan that you have achieved getting your one month visa and looking to get as much into your travel plans as possible. This is definitely not a tricky feat to achieve with the amount of nature and activities to check out!
Lahore (3 Nights) – An amazing city full of culture, mosques, bazaars, great food and the Lahore flag ceremony. It will take time to check out the museums and old Moghul Empire buildings, rich in history, so three days is perfect for here. We have some good friends here if you need people to hang out with!

Islamabad (2 Nights) – The official capital of Pakistan where it was Karachi before. The city is completely organised as it's been a planned city. There's no history or culture here so to speak but dinner up on the hill in Monal is worth treating yourself to, even if just for the view! There's also a bowling alley if you really want to kill an evening before heading up north. Don't waste too much time here unless you need to do embassy runs for visas or stock up on gear for trekking.

Travel to Gilgit (1 Night) – Take the 16 hour bus from Rawalpindi for 1500-2200 Rupees where you will arrive at roughly 10am in the morning.

Gilgit (2 Night) – There are a few small treks you can check out. The police will try and get you to stay in certain places but Couchsurfing is great. You may meet people along the way that will invite you to their house. Our friend Khadim showed us amazing hospitality and he might happily show you around too. Just

email us hello@readyforroad.com

.

Karimabad (2 Nights) – This is a town where you will find charming people, a nice welcome vibe and some nice little treks. You have some old forts, delicious food and almost every shop is selling dried fruit, hand crafts and gems from the Ruby mines nearby. I've spent more than I care for buying Emeralds, Rubies and Sapphires for people back home. Grab a Hunza hat and shout "Yali Madah!" to the locals and watch them smile in return!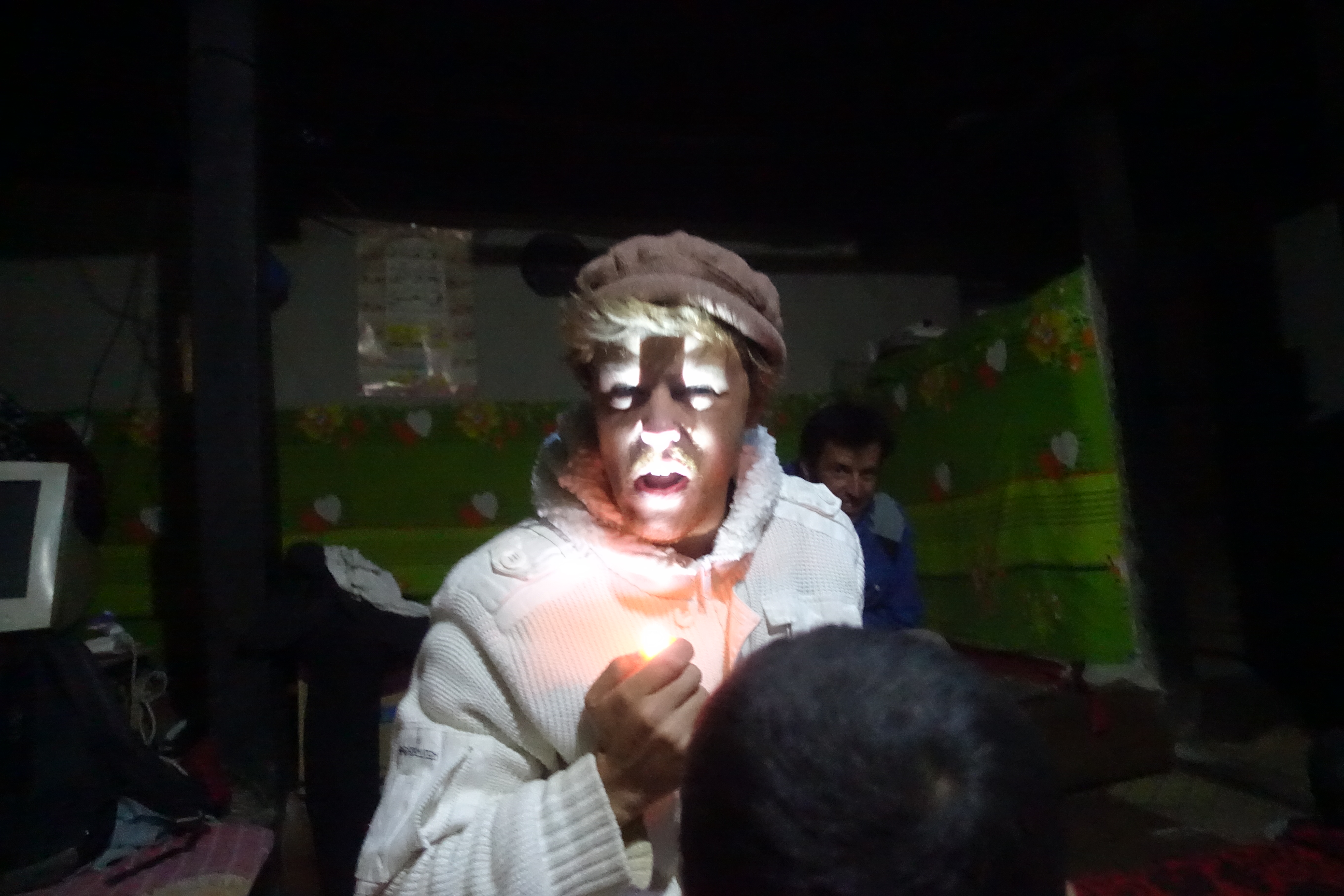 Eagles Nest (1 Night) – An outcrop that you can trek up to from Karimabad. Simply ask for directions to it from the locals and you should have no problem getting there. It should take you about two hours to walk up to the top where you will find plenty of places to stay. If you fancy, bring a tent and pitch it yourself, just remember to set an alarm to get up early and check out the sunrise.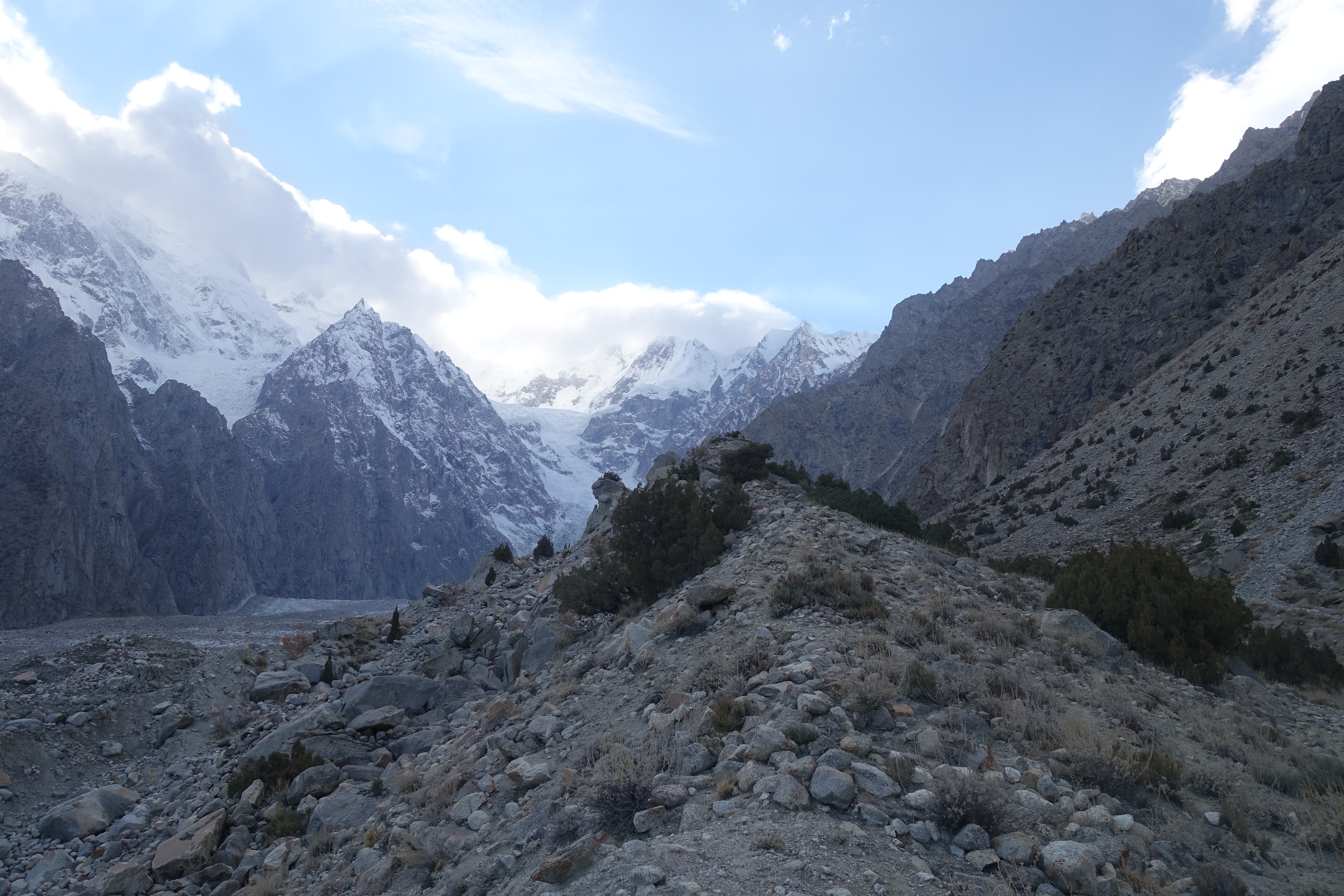 Rakaposhi Trek (1 Night) – Book a car to the start of the trail head and start walking up. If you feel uncertain, rent a porter for 15-25 dollars per day to lead the way. The trail is not all that well travelled but you should have no problem if you just walk straight up! Camp at first station for a night before making your way up to Base Camp and making your way down the same day. Arrange your pick up before you come down as you may have no signal.

Gulmit/Ghulkin (4 Nights) – A public bus will take you here from Aliabad, not too far from Karimabad. Just hop on a Suzuki from Zero Point in Karimabad to get to Aliabad and catch the local bus. You'll all be very squished in the back but that's part of the fun of it all. Here you can get in touch with our guy Rehman we mentioned before that will show you the black glaciers, white glaciers, treks up to the Shephard's Huts and more of the local area!

Gilgit (1 Night) – Make your way back to Gilgit and book a bus to Skardu. Here

Skardu (4 Nights) – You'll find plenty to do here. Skardu city center, K2 Museum, Sand dunes, Kharpocho Fort, Satpara Lake About 8 km away, Shangrila Lake About 32 km away and 2 hours by jeep, Shangrila resort, Shigar Valley 23km away, Shigar Fort, First Organic village and Buddha Rock Carvings.

Travel to Gilgit (1 Day/Night) – Spend a night in Gilgit and get the bus back to Islamabad the following day. Bus leaves at 7am and will arrive at 11pm at night. It's a windy journey that shows no remorse for those with a light stomach.

Peshawar (1 Night) – Grab a bus early from Rawalpindi to Peshwar. They take about three hours and if you get all the sights in, you can head back to Islamabad that evening. Peshawar is famous for markets, gem shopping, walled city,

Travel to Karachi (One Full day) – Grab a train, takes 22 hours and camp up. You shouldn't spend more than $20 for the cheapest train. You should leave around 8am and arrive in about 10am the next day so bring books and whatever it is you need to kill some time. This train is the lowest class but an adventure in itself. Make some travel buddies, you'll undoubtedly make a million of them anyway.

Karachi (3 Nights) – I won't bore you with a million things you must see but as one of the most populous cities in the world you can expect to find plenty of palaces, forts, mosques and markets to keep you occupied before you leave. The reason Karachi is the best city to finish off in is that flights out of Pakistan are far more expensive than flights into Pakistan. However, Karachi seems to be cheaper than the rest.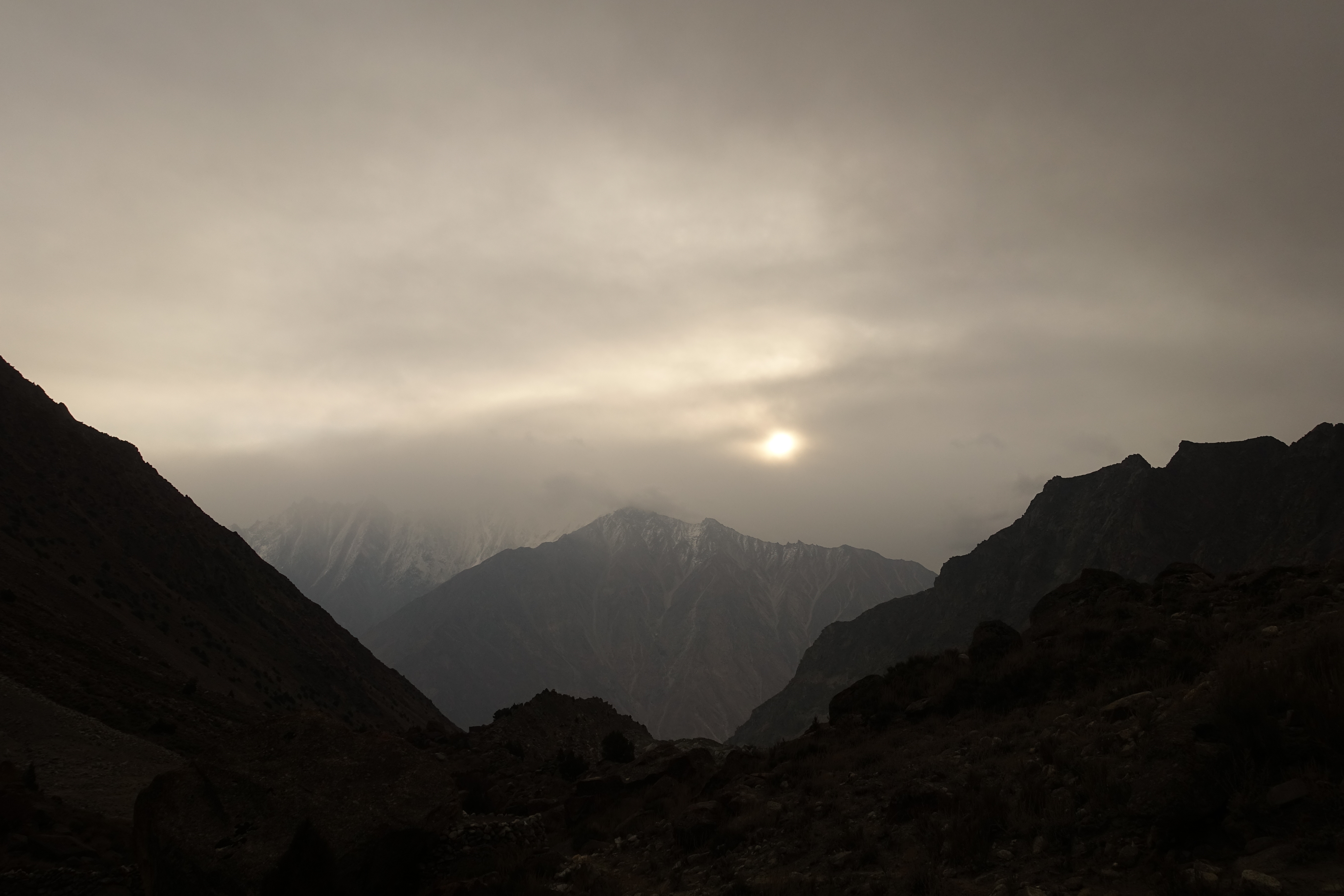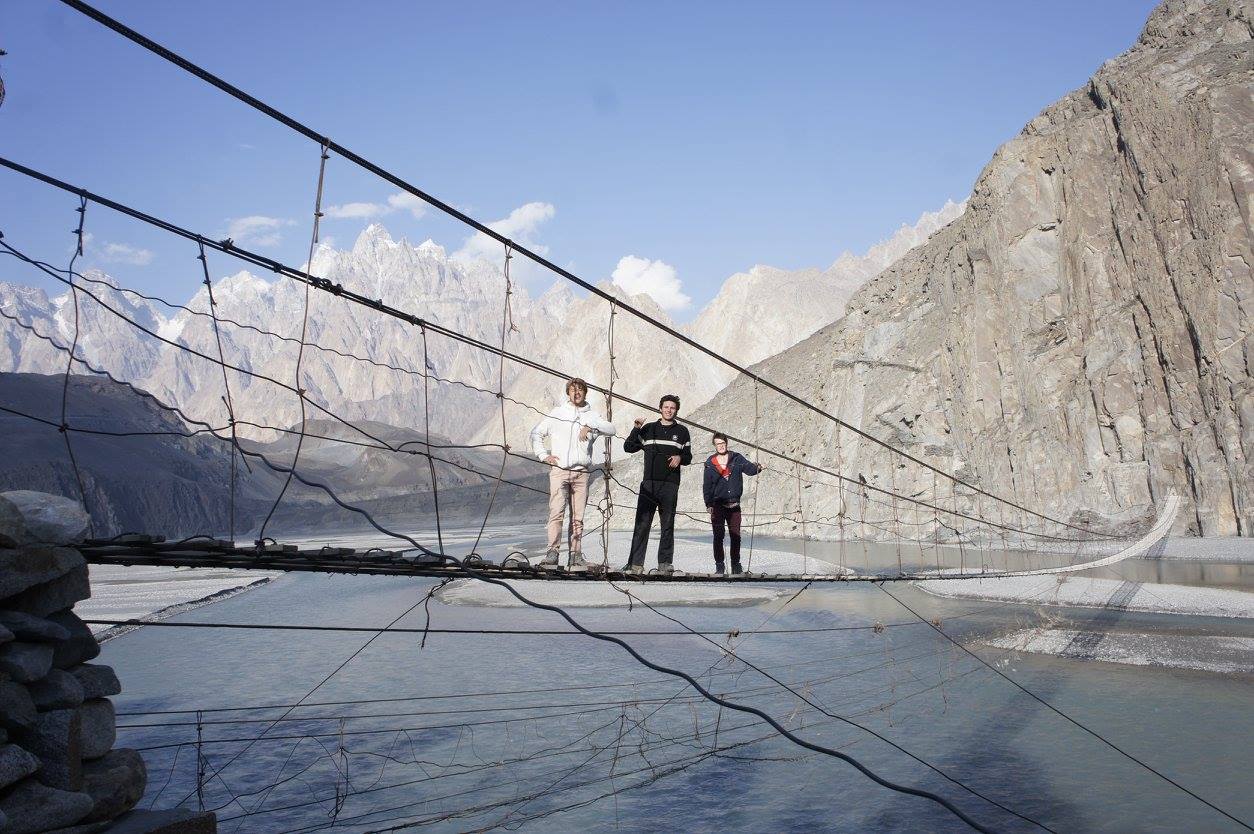 Some useful travel Tips
Get your passport photocopied 20-30 times. On each copy, have your visa details available on the same or another sheet too! Although it's very safe, the Pakistani government still has roadblocks everywhere. They are usually very easy with foreigners and polite too. They have a fear that you may cause trouble by talking to your embassy according to a French Journalist we met who is working there.

Get your sim card early and head along yourself to the head office of the provider of your choice. You'll just need your passport.

Couchsurfing is the best way to get accommodated and you'll get more help with getting around than you anticipated.

If you are not feeling up to carrying large trekking gear and kit with you, leave it at home. You can head to the markets in Islamabad and pick up gear for less than $20 to get you through. This we had to do as we had no gear when we arrived!

Talk to the locals as much as possible and leave prejudice at immigration

You don't need a guide for all treks, so save your money. We had one who basically just walked along with us and did very little apart from set up a tent.

Try for the night bus when travelling north as a whole day sitting on that bus is a pain. Also, worth noting that there is a flight from Islamabad to Gilgit you can look into.

Use Careem is an Uber like service in Islamabad that gives you good cars, service and price.

Uber is available in Lahore and allows you to Uber rickshaws, which is definitely a funny experience.

Street food is cheap and just as good if not better than most restaurants. More so than most countries I've been to!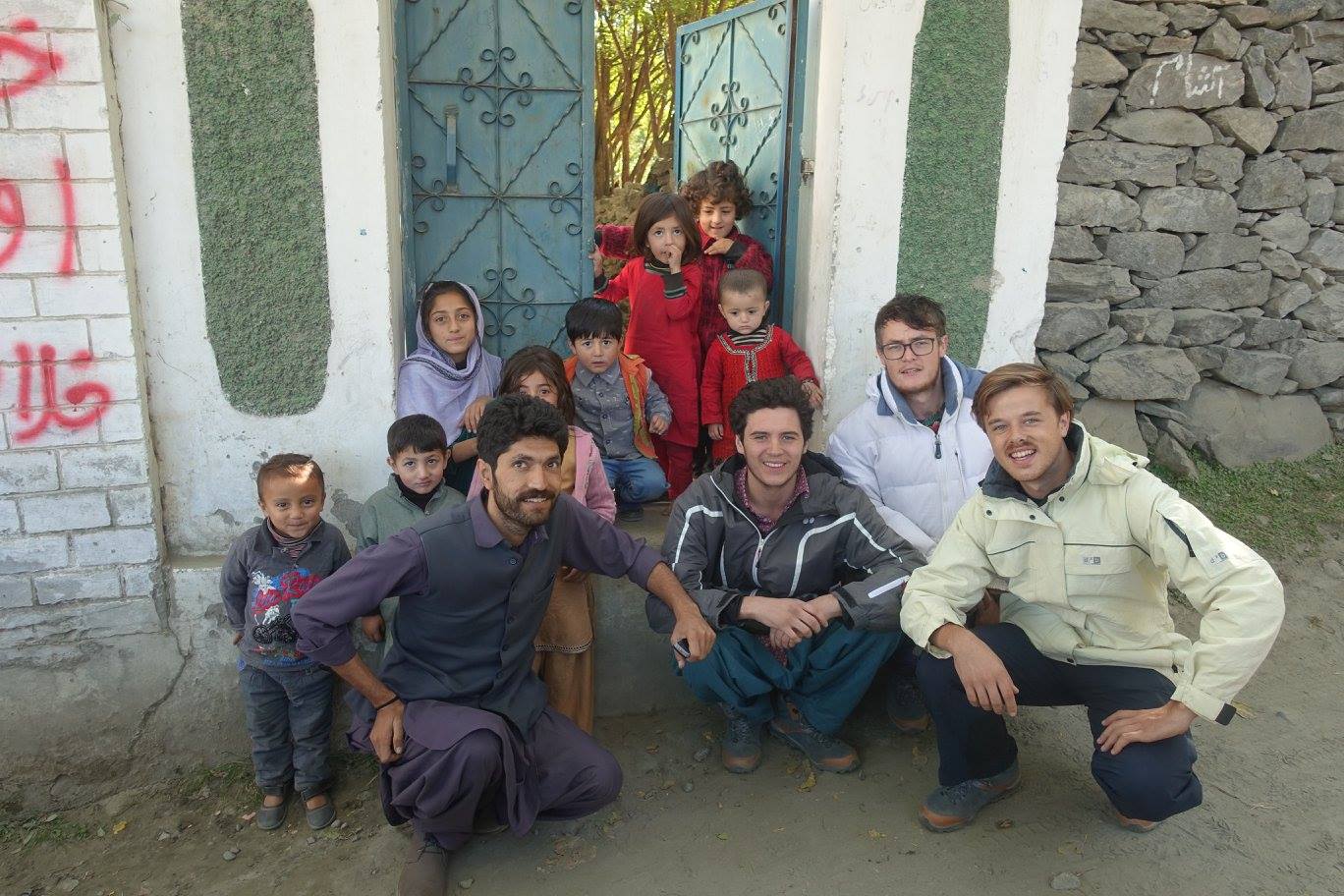 Things you need to try
-Trekking to Rakaposhi Basecamp. It's possible to do it all in one day but breaking it in two and staying in the Shepard's Hut or camping at first station is beautiful. Make a small fire to keep warm and get some food on the go! Expect beautiful glaciers at basecamp, Quartz crystal littered everywhere and an unparalleled view of one of the worlds killer mountains.
-Visit the Lahore flag ceremony. You'll go through 6 police checks on the way to the border region due to a blast a few years back. Everything is peaceful now. The Indian and Pakistani reps have a stadium each side, both blasting music, banging drums and waving flags. Soldiers and elites march dramatically and make threatening gestures at one another until the flag comes down.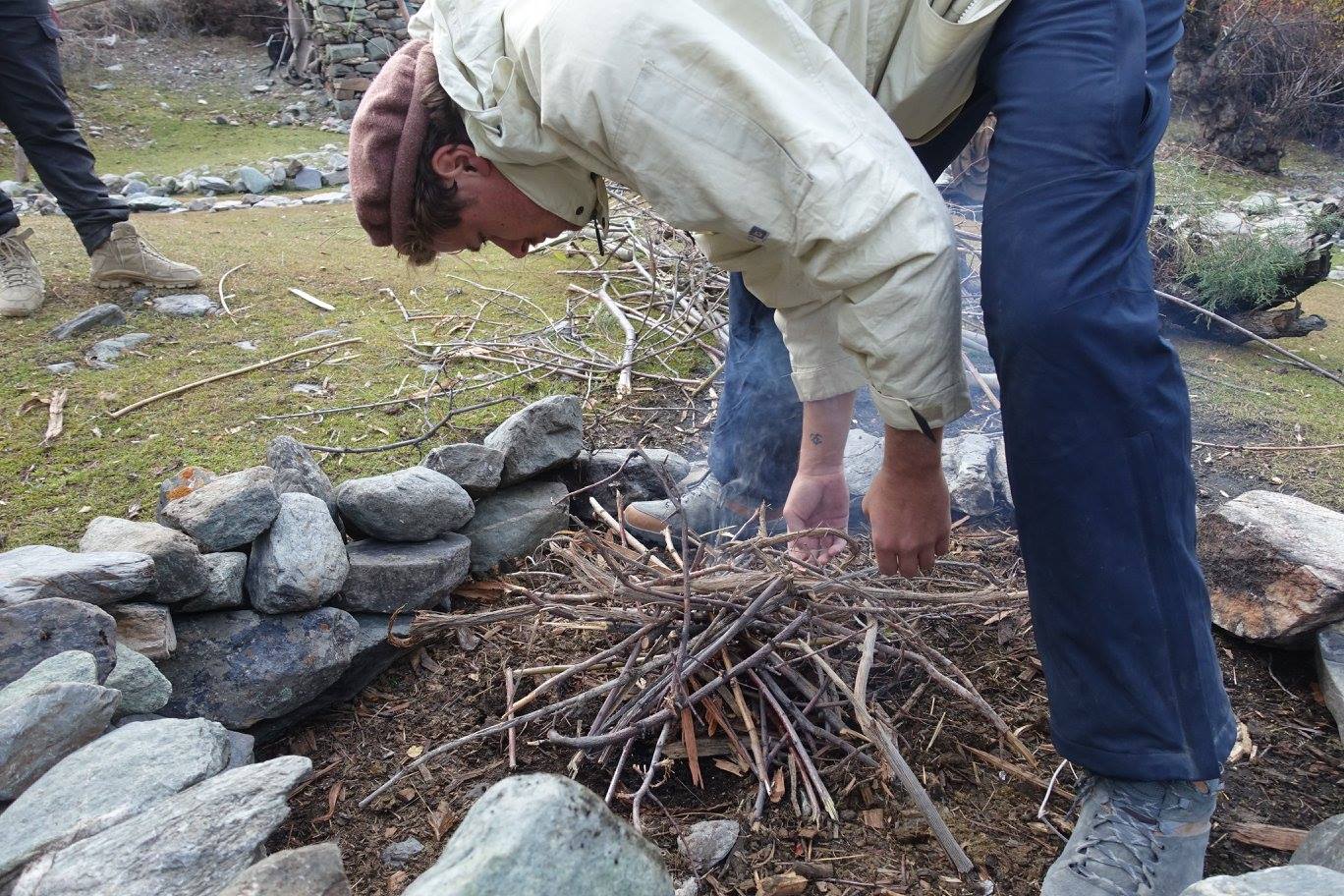 -Hunza water. Not exactly legal but readily available in some places in the north. You will find 1.5l bottles of water filled with homemade moonshine that has no real defined strength. You can pick up a bottle for $10-20 dollars. You might also find Baijou (Chinese spirits) or Chinese Beer near the border regions but expect to pay a small fortune for it.
-Gems are cheap and readily available all over Pakistan and especially in the north. Do your shopping and homework first as there are glass gems on sale too and will be worth nothing when you get back home
-Try a homestay. Our man on the ground Rehman is perfect! He will take you into his home, his family is the best and he'll show you around all the local treks which kept us busy for upto 5 days! Pay him $20 a day for his troubles. It's money well spent. Contact us here and we will put you in touch.
You WILL go trekking. If you do…
If you see a large animal in your path, always walk on the uphill side of that animal. This ensure a charge by a scared yak, mustang or other animal is less likely.

Keep hydrated as much as you can! Drink plenty of water and feel free to fill up in any of the mountain streams but use a water purification tablet first.

In high altitudes and cold climates you will find that your lips dry up and start flaking. Get some lip balm to sort that out and ideally some with UV protection. If they get burnt, you'll know all about it.

A little bottle of whiskey makes for some nice sipping in the evenings and won't take up much space.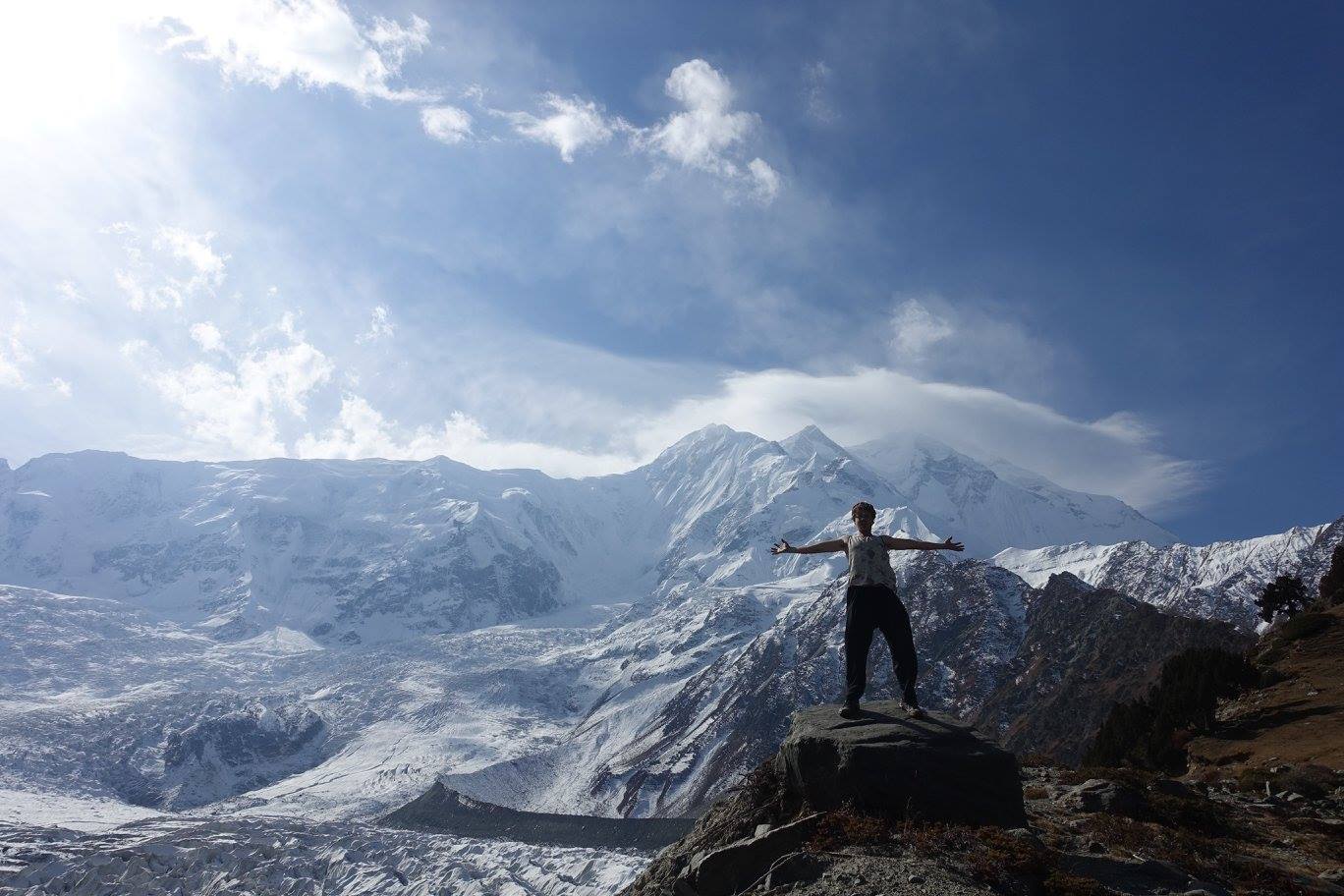 When energy levels are low and you need a little pick me up, skip on the energy bars. They cost a fortune. A good old fashioned snickers has some nuts for slow release energy, some sugar for quick release and who doesn't love some chocolate….really! Just try not to eat them all too soon.

Altitude sickness is a real nasty piece of work. Make sure you follow the correct guidelines where possible. Its can have devastating effects and can at times completely ruin your trek if you are not careful! Bring altitude sickness tablets with you and read up on altitude sickness before you attempt climbing. Learn about the signs you need to look out for, when to take medication, where on your route you should stay to acclimatise for pressure.

Make sure you have travel insurance. If you need an evacuation, you don't want to be paying for it out of your own pocket!

Take care of your knees, hips, ankles. Good trekking shoes, wear knee supports if you think you need them and make sure to stretch out those legs. When muscles get tight, that's when joints get worn down. Stretch at night and again in the morning.

Don't race, it's definitely not a race. Stop early while it's still bright. Don't try and trek through tough weather incase it gets too intense and you get stuck or stranded. Go at your own pace.

Trekking socks are essential. They will prevent your feet from blistering up and believe me, as soon as you get blisters you will be dreading every single step of the trek. All of a sudden then fun is gone for you.

The trekking noble silence. This is something you don't realise until you start. You'll talk endlessly but when it gets tough and everyone is tired, let people wander in their heads for a while. No one likes someone who keeps talking when all you want to do is make it to the next town.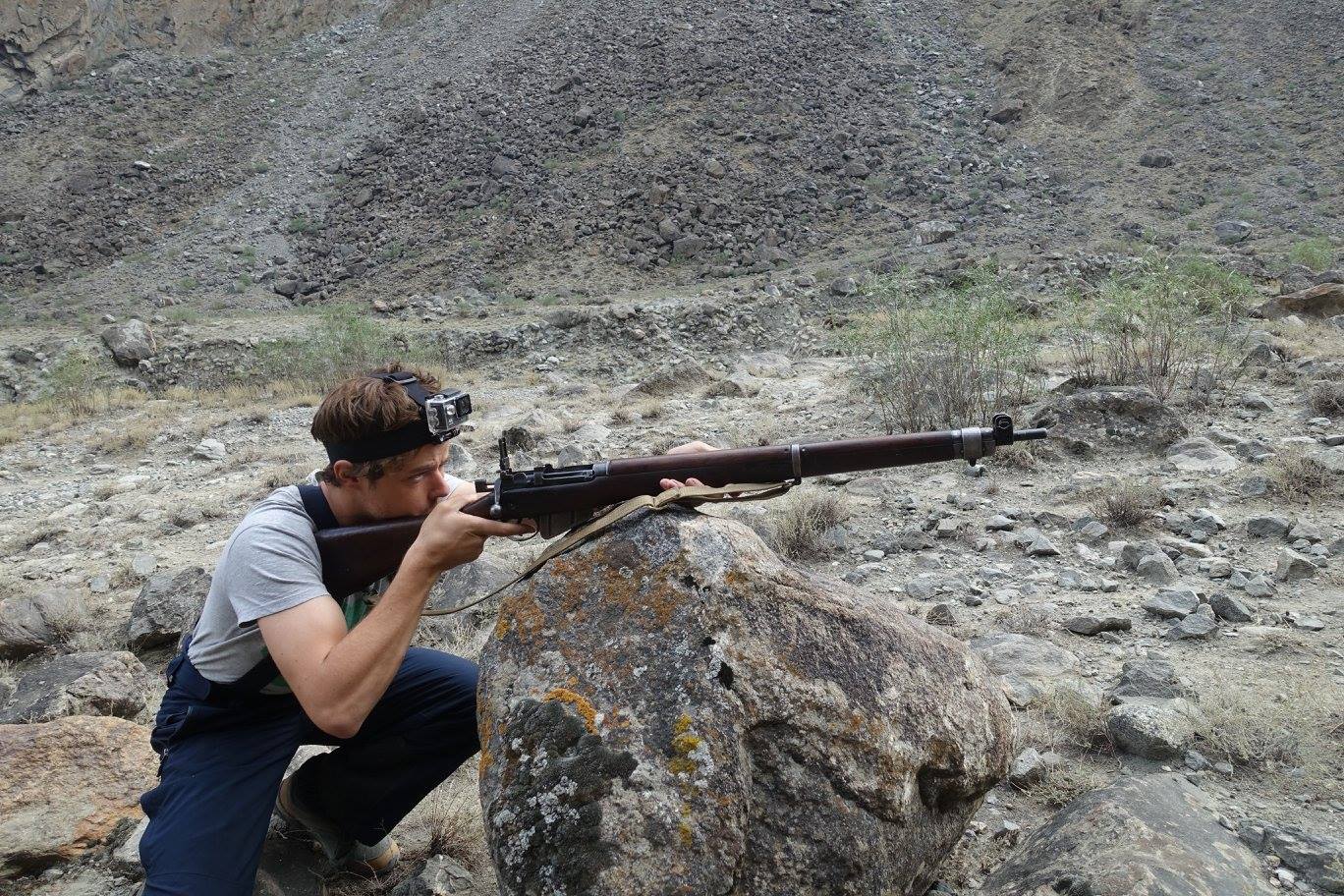 Trekking speed. You can only go as fast as the slowest person in your group. Let them up near the front. Good for moral and it sets the pace!

Don't litter and ruin the beautiful environment. Not a wrapper, nothing. Even if you see a local do it, don't! Put it in your pocket.

Pack as light as possible. Remember how far you are going to be bringing every little thing. If you think you don't need it, leave it behind you to collect when you return to your hotel/hostel/guesthouse in whatever place you set off from.

Layers, layers and more layers. At low altitude you'll be too warm in your big buff jacket. You'll be carrying it until you need it a few days later. Pack layers on to keep warm and strip them off to cool down. This regulates the body temperature more effectively.
Handy Facts
Pakistan is the 6th largest nation of the world containing one of the oldest civilizations in history [Mehrgarh, on the Kachi plain of Balochistan, dates back to 6000 BC and one of the earliest known farming villages of Indus Valley Pakistan]

Pakistan holds 4 out of the top 14 highest peaks in the world; K2 is the 2nd highest mountain in the world.

Pakistan has world's largest irrigation system i.e. 3 times bigger than Russia's canal system even though Pakistan is at least 10 times smaller than Russia.

Pakistan National Anthem tune ranks 1st in top 3 tunes of the world and 1st in the world's national anthem.

Pakistan has the world's highest paved international road – The Karakoram Highway, which is said to be the 8th wonder of the world.

Pakistan has the 6th largest armed forces in the world and only nuclear power in the Muslim world.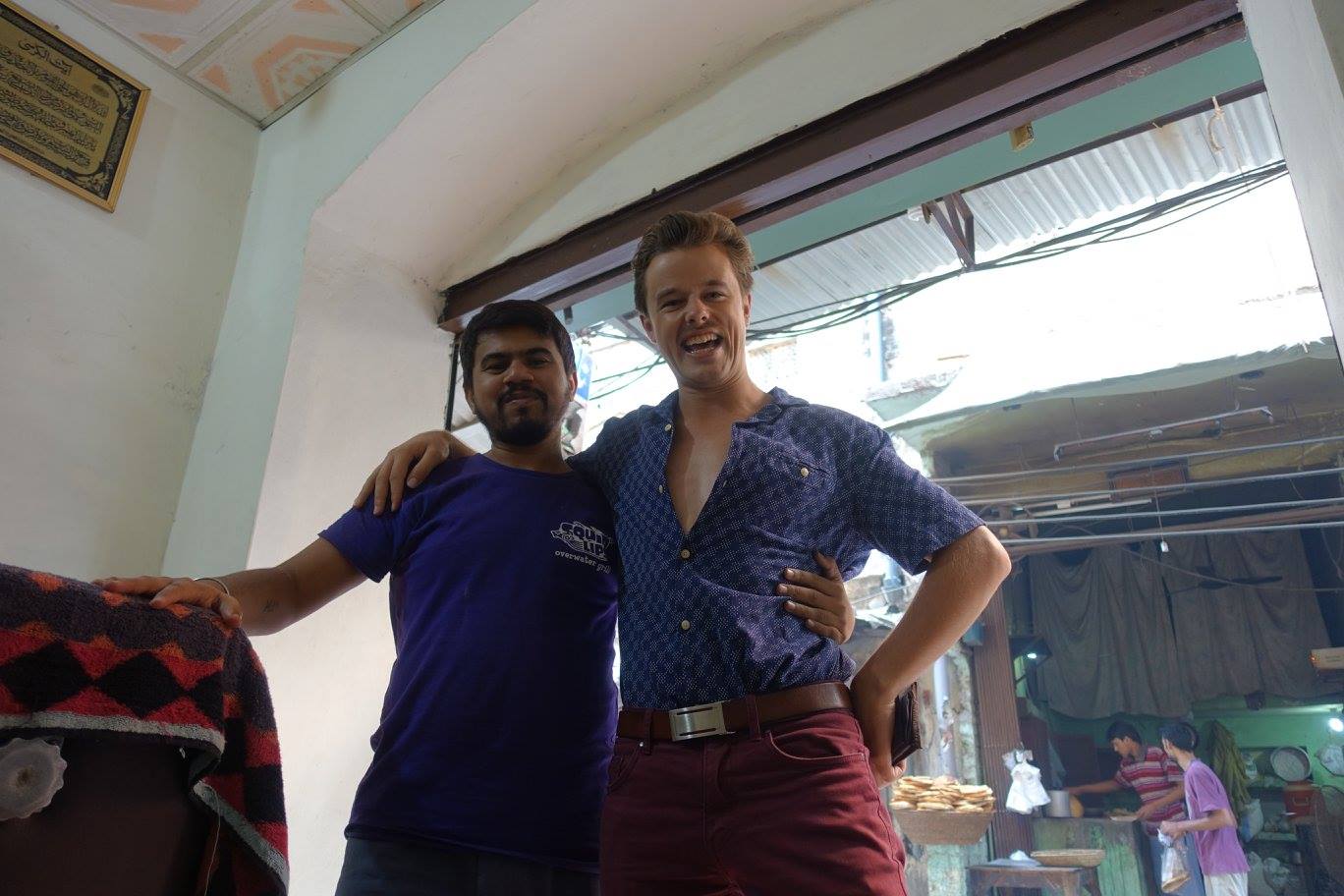 Pakistan is the world's 7th largest pool of scientists and engineers.

Pakistan has Khewra salt mine, which is the 2nd largest salt mine in the world.

Pakistan is ranked 4th in terms of broadband Internet growth in the world.

The world's largest Volunteer Ambulance Service Providing Organization operates in Pakistan that was founded by A. Sattar Edhi, a social worker of international fame.

Pakistan is making 80% of the world's soccer balls at one of the largest facilities in sports good in Sialkot.

Pakistan treasures one of the rare species of dolphin known as 'Blind Dolphin' in waters of Indus River, one of the longest rivers in the world.

Pakistan is ranked 25th in terms of overall agricultural production with chickpeas on top,5th in mangoes, 6th in dates, 8th in rice,  9th in wheat and 10th in orange production in the world.

Pakistan is ranked 95th in terms of industrial production even though it has 4th largest coal and 7th largest copper reserves in the world.
Before you go…
Grab an adapter as it's a two pin system for plugging your bits and bobs in to charge overnight. Beware plugging kindle and other devices directly into the wall as surges and power cuts can be common in some places.

Get the appropriate shots and malaria tablets which you may need for certain reasons. Getting antibiotics without prescription is possible in Pakistan so no need to bring half a hospital with you.

ATM's are exceedingly all over the place! Some won't work, some won't accept your card and up north they are very rare. So, get your money out before going up North. Keep a money stash with you at all times but keep it as safe as possible.

Bring a sleep protector with you. A small sheet like bag that puts a barrier between you and your bed sheets. Some trains haven't been cleaned in a while!

Bring hand sanitiser and wipe before every meal. You may not have toilet paper in some spots and it's common to use your hand. Hygiene is better in recent years but still lacking a lot!

The standard of english is quite good, it was previously under UK rule at one stage so it makes sense. You will have learn a few words though before you land down to help you.

When men greet each other, there is a sort of one handed hug. It starts with you placing your right hand on their side and leaning in, then you pull away and shake hands. You also shake hands when wishing them well and saying goodbye!
Some useful phrases
English | Urdu
Welcome |  Khush Amdid
Hello |  Assalam Alaykum (Reply: Walaikum Assalam)
Hello |  (Phone) Helo
How are you? |  Ap Kaisi Hain
How are you? |  (Reply) Main thik hun
Thanks |  Shukriya
What's your name? |  Ap ka nam kya hai
My name is… |  Mera nam …. Hai
Where are you from? |  Ap ka taluq kahan se hai?
I'm from … |  Mera taluq … se hai
Pleased to meet you! |  Ap se milker khushi huwi!